Frances Burney

(

1752

–

1840

)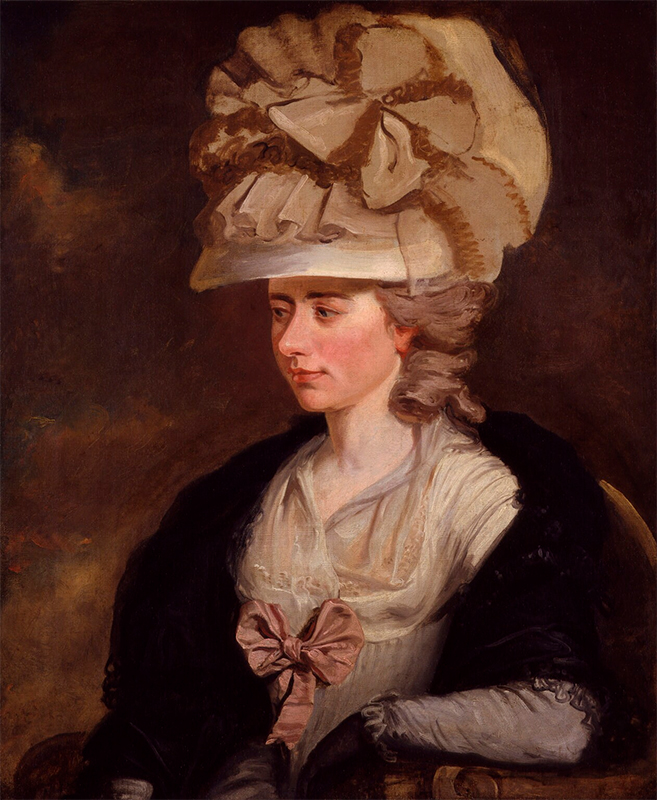 Peter Sabor, McGill University
November 2022
Frances Burney (1752-1840), a prolific writer of fiction and drama, also achieved posthumous fame through her copious journals and letters. She was the most celebrated female author of her time, publishing four acclaimed novels between 1778 and 1814, while her journals and letters provide a rich source of information about social conditions and cultural changes over her long lifetime. Her eight plays—four comedies and four tragedies—almost unknown to her contemporaries, are now also receiving critical attention, as is her final publication: a memoir of her father, the musician, music historian and man of letters, Dr. Charles Burney.
Burney was born in King's Lynn, Norfolk, on 13 June 1752, the third child and second daughter of Esther Sleepe Burney, who was part of a successful London fan-making enterprise, and Charles Burney, who had recently moved his family from London to take up a position as organist at St Margaret's Church. When the Burneys returned to London in 1760, the eight-year-old Frances had not yet learned her letters and was thought to be a slow developer. By the age of ten, however, she had not only learned to read but had already begun writing, and in 1761 she produced her earliest surviving composition, a precocious "Ode to Content."
In 1762 Burney's mother died, a loss which devasted the sensitive young girl. Although her father also felt the loss keenly, five years later he took as his second wife the widow of a wealthy King's Lynn grain merchant: Elizabeth Allen. This union swelled the Burney household, adding Elizabeth's three children to Charles's six, and the couple would have two more children together, one of whom, Sarah Harriet Burney, would also become a popular novelist. Several other of Frances's siblings achieved fame too: her brothers Charles Burney, as a classical scholar and bibliophile, and James Burney, as an explorer and travel writer; and her stepsister Elizabeth Meeke, née Allen, as an astonishingly productive Minerva Press novelist and translator.
During her childhood and early teens in London, Frances Burney wrote a mass of poetic and dramatic works, as well as the draft of a novel, "The History of Caroline Evelyn." On her fifteenth birthday, however, in June 1767, she lit a bonfire in the courtyard of the family home in Poland street, destroying what she much later termed a heap of "Elegies, Odes, Plays, Songs, Stories, Farces … Tragedies and Epic Poems," and "The History of Carolyn Evelyn"—virtually all that she had written up to that time. She seems to have been impelled to do so by a powerful sense of guilt. Contemporary society frowned upon women wasting their time in writing imaginative literature, and fiction in particular:
In March 1768, however, Burney began keeping a private journal, which she would continue to do over a seventy-year period, until her death in 1840: with her extraordinary ability to depict the changing world around her, she is regarded as one of the greatest English journal-writers. While serving as the amanuensis for her father's monumental General History of Music, Burney also wrote a sequel to "Caroline Evelyn." This three-volume epistolary novel, Evelina; or, a Young Lady's Entrance into the World, was published anonymously in January 1778 and made Burney, whose identity was quickly discovered, a literary celebrity; it was her most popular novel during her lifetime and has been so ever since. Hitherto unknown but now a feted author, Burney became a frequent guest at Streatham Park, the country house of Henry Thrale, a wealthy brewer and Member of Parliament, and his wife Hester Lynch Thrale. The most famous member of the Thrale circle, Samuel Johnson, commended Evelina highly and took a strong avuncular liking to Burney.
Encouraged by Johnson, Hester Thrale, and the painter Joshua Reynolds, as well as by the dramatists Richard Brinsley Sheridan and Arthur Murphy, Burney began work on a comic drama, The Witlings, which satirized pretentious literary dabblers and would-be wits. Sheridan hoped to produce the play at Drury Lane, but the plan was adamantly opposed both by her father and by a family friend, Samuel Crisp, who were afraid that The Witlings might give offence to prominent educated, intellectual women, or bluestockings, such as Elizabeth Montagu: the comedy thus remained unpublished and unperformed. In 1780, Burney began work on an ambitious second novel, Cecilia, or Memoirs of an Heiress, which was published in five volumes in 1782. The novel, much longer and more demanding than Evelina, also met with great acclaim, receiving the admiration of such figures as Johnson, the historian Edward Gibbon and the philosopher and political writer Edmund Burke.
Burney seemed set for a brilliant career as a novelist, if not as a dramatist. In 1786, however, after an abortive courtship by George Owen Cambridge, she accepted a position as Keeper of the Robes to Queen Charlotte at Windsor Castle, encouraged by her father who saw this as a way of improving the family fortunes. For Burney, however, the position meant a loss of contact with the everyday social world that had provided the fabric of her novels. Increasingly unhappy with her sequestered life at court and embittered by the harshness of her domineering colleague Elizabeth Schwellenberg, while also witnessing the harrowing mental breakdown of George III, she began writing tragic dramas in blank verse, drafting three before she left court service in 1791 and leaving a fourth in fragmentary form.
The first of these tragedies was Edwy and Elgiva. She began it in 1788, when George III's malady was reaching its height, and completed an early version in 1790, a year before she left office in ill health—receiving a pension of £100 per annum (half of her court salary). In 1793 she met Alexandre d'Arblay, the former Adjutant-General of the Marquis de Lafayette, one of a number of aristocratic French émigrés living in Juniper Hall, Surrey, close to her friends, William and Frederica Lock at Norbury Park and also to her sister Susanna Phillips's cottage at Mickleham. After a rapid, six-month courtship, the two were married, against her father's wishes on 28 July in a Protestant ceremony at Mickleham Church, followed two days later by a Catholic rite in London. The marriage was, by all accounts, exceptionally happy, and Alexandre proved to be a devoted and surprisingly progressive husband, often acting as Frances's amanuensis.
In the same month as her marriage, the second of Burney's tragedies, Hubert De Vere, was accepted for production at Drury Lane, but later withdrawn in favour of Edwy and Elgiva. A revised version of the earlier play was accepted by John Philip Kemble and Sheridan for Drury Lane in December 1794, just before Burney gave birth to her only child, Alexander d'Arblay, and performed on a single, disastrous occasion, on 21 March 1795, with a prologue by her brother Charles. Occupied by her infant son, Burney could not fulfill her plans to make "divers corrections & alterations" to the tragedy before its premiere. Not surprisingly, the under-rehearsed tragedy, whose author had played no part in the crucial pre-production period when the text could be revised to suit the demands of the stage, proved to be a failure. Encouraged by her husband, Burney contemplated publication of her tragedy, to which she made extensive revisions, but the plan was opposed by her father. Burney went on to write three more comedies, one of which, Love and Fashion, was accepted for performance at Covent Garden, with a premiere scheduled for March 1800. The death of her sister Susanna in January, however, impelled her, at the urging of her father, to withdraw the play from production, and none of Burney's comedies or tragedies was published in her lifetime.
In 1793, Burney published a pamphlet, Brief Reflections Relative to the Emigrant French Clergy, written on behalf of the Catholic clergy who had fled to England from Revolutionary France. Two thousand copies were printed and it was favourably reviewed, but no further editions appeared. A French translation by Alexandre d'Arblay was said, at the end of the pamphlet, to be in preparation, but it failed to appear.
While at court, Burney had begun to draft her third novel, Camilla, or, A Picture of Youth, which she termed her "grand ouvrage." Published in five volumes by subscription in 1796, with a dedication to Queen Charlotte, it brought her financial security as well as fame. Proceeds from the subscription and from sale of the copyright brought Burney over £2,000, enabling her husband to design and build "Camilla Cottage" as a residence for the couple and their infant son on land belonging to the Locks at Norbury Park. In 1802, a second, substantially altered edition of Camilla was published: it was the only one of her novels to be significantly revised.
In April 1802, Burney and her young son Alexander left Camilla Cottage to join d'Arblay in France: her first-ever visit to his native country. The signature of the Peace of Amiens in October 1801 had enabled d'Arblay to return to France for the first time in eight years, with a view to regaining some of his confiscated property. The renewal of war between France and England in May 1803, however, overturned the d'Arblays' plan to return to England. They resided first in Passy and then, from 1805, in Paris, and Frances would not return until 1812. During her years in France she worked steadily on what would be her final novel, The Wanderer; or, Female Difficulties, eventually published in five volumes in 1814, just weeks before the death of her father. French and English relations provide the major theme of this work, which received much harsher criticism from contemporary reviewers than any of Burney's previous novels but which, with its interests in women's rights, alterity, and racial prejudice, has become of increasing significance for readers today.
During her stay in her France, Burney wrote the most powerful of all her journals: an appallingly vivid account of the mastectomy for breast cancer, without anesthetic, that she endured in September 1811. Like many of her finest set-pieces, this was written well after the events that it records. In 1814, she returned to France to rejoin her husband, leaving Alexander behind in England as a student at Cambridge. Her Waterloo Journal, reporting the climax of the Napoleonic wars from February to July 1815, was composed only in 1822, while a vivid account of her flight in 1812 from France to England, accompanied by Alexander but without her husband, was written still later, in about 1825.
In 1815, before returning to England, Alexandre d'Arblay was wounded fighting in the army opposing Napoleon. Later that year, Burney and her husband took lodgings in Bath, where he died in 1818; four months later she moved to London, settling first in Piccadilly and later in Mayfair. The d'Arblays had been forced to sell their beloved Camilla Cottage in 1814; William Lock, the son of Burney's old friends William and Frederica Lock, had insisted that the land on which it was built remained part of the Norbury Park estate.
Burney spent a good part of her widowhood going over family papers, her own and those of her father, which she had inherited upon his death in 1814. In 1832, she published her final work, the three-volume Memoirs of Doctor Burney, based on her father's manuscript which she heavily revised and subsequently destroyed: it was severely criticized by reviewers for its stilted style and for its focus on herself, rather than on its ostensible subject. Burney's son Alexander, who had been ordained as a priest in the Church of England in 1819, predeceased her, dying in mysterious circumstances in 1837. Burney's death followed three years later on 6 January 1840, exactly forty years after the death of her beloved sister Susanna. She was buried in Wolcot Churchyard, Bath, beside her husband and son.
Famous in her lifetime as a novelist, Burney received posthumous celebrity as a journal writer with the publication of The Diary and Letters of Madame d'Arblay (1842-46), edited in seven volumes by her niece Charlotte Barrett. They were later supplemented by the two-volume Early Diary of Frances Burney (1889), edited by Annie Raine Ellis.
Modern scholarly editions of Burney's journals and letters, under the general editorships of Joyce Hemlow, Lars Troide and Peter Sabor, published between 1972 and 2019, run to a total of twenty-five volumes, while a modern edition of Burney's plays, edited by Sabor and others in 2005, brought her four comedies and four tragedies into print at last. In recent years too, productions of her comedies have become increasingly frequent. Classroom editions of the four novels have been published by Oxford University Press, and a scholarly edition of the novels in seven volumes, to be published by Cambridge University Press, is in progress. Hemlow's biography of 1958 remains the most fully documented study of Burney's long life. More recent biographies by Margaret Anne Doody (1988), Kate Chisholm (1998), Janice Thaddeus (2000), Hester Davenport (2000) and several others supplement Hemlow's work in various ways.