Ignatius Sancho

(

1729

–

1780

)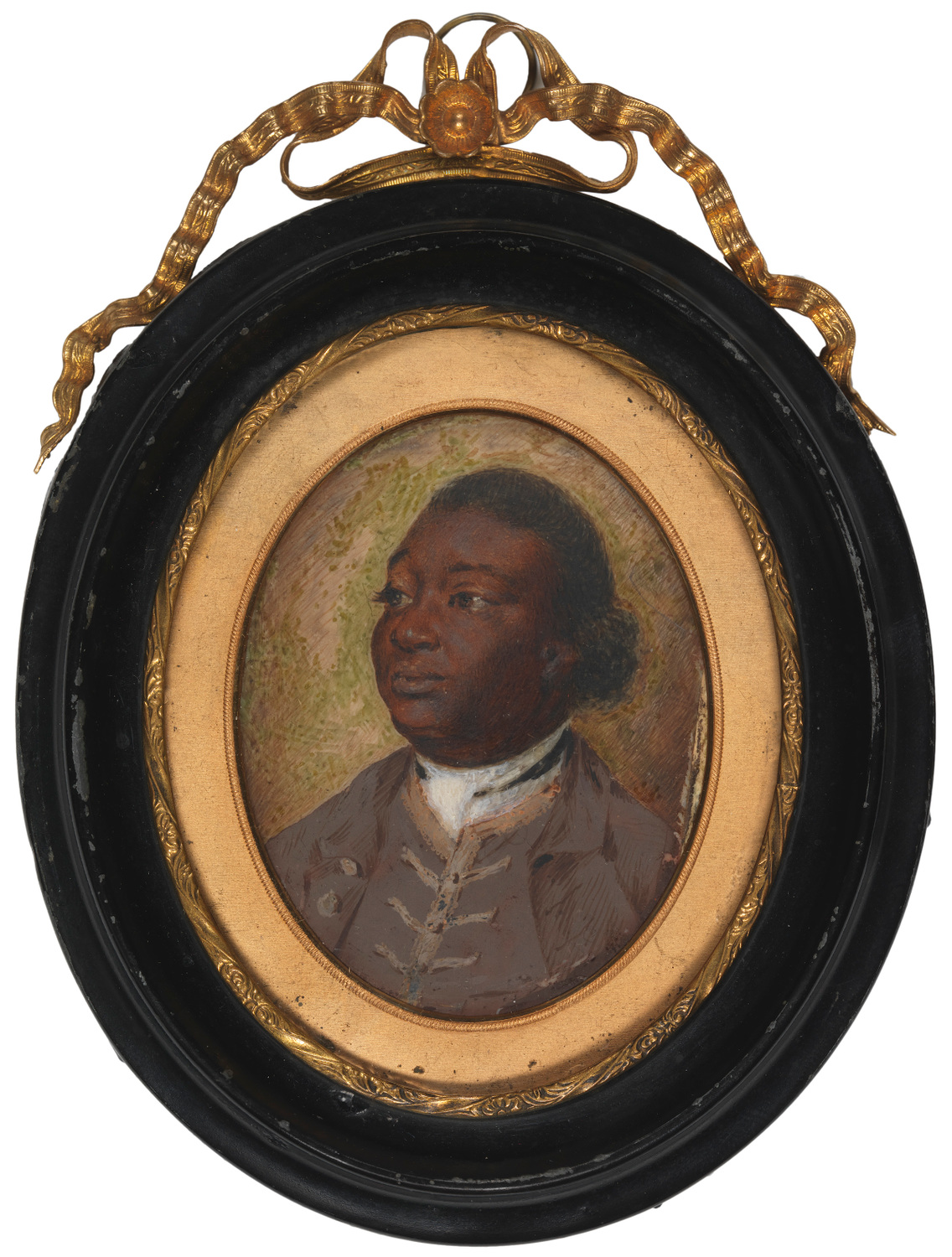 Biographical details
(Charles) Ignatius Sancho (1729?–1780), author, was born on the middle passage, on a slave ship crossing the Atlantic Ocean en route to the West Indies. His mother died shortly after, in the Spanish colony of New Granada. There, the bishop baptized him and named him Ignatius. Not long after, his father committed suicide. Barely two years old, Ignatius was taken by his owner to England where he was given to three maiden sisters in Greenwich. Imagining that the pudgy boy resembled the fictional Sancho, squire of Don Quixote, they gave him the surname of Sancho. Sancho was fortunate to meet by accident John, second duke of Montagu, living in nearby Blackheath. Montagu was so impressed by Sancho's intelligence that he frequently brought him home, gave him books, and encouraged him to read. After Montagu's death in 1749, Sancho fled Greenwich and sought protection from the duke's widow who at first rejected his appeal. However, she relented and hired him as her butler. When the duchess died in 1751 she left him an annuity of £30 and one year's salary, which he squandered, according to Sancho's first biographer Joseph Jekyll, on women and gambling. He was retained a few months by the Chaplain at Montagu house. On 17 December 1758, Sancho married Ann(e) Osborne (1733–1817), described by Jekyll as "a very deserving young woman of West-Indian origin," in St. Margaret's Church, Westminster. The late duke's son-in-law George, duke of Montagu, hired Sancho as his valet in 1766.
Dictionary of National Biography (1885–1900)

Please note that this article uses historical terminology that readers may find to be derogatory and offensive.

SANCHO, IGNATIUS (1729–1780), negro writer, was born in 1729 on board a ship engaged in the slave trade while on the journey from Guinea to the Spanish West Indies. At Carthegena, in South America, a Portuguese bishop baptised him in the name of Ignatius. His mother soon died owing to the climate, and his father committed suicide. At two years old he was brought to England, and was made over to three maiden ladies, who lived at Greenwich. They deemed it imprudent to give him any education, and subjected him to a rigorous discipline. A fancied resemblance to Don Quixote's Squire led them to give him the surname of Sancho. He is conjectured to have sat to Hogarth in 1742 for the negro boy in 'Taste in High Life' (Hogarth, Works, ed. Nichols and Steevens, ii. 158, iii. 333). He rebelled against his servitude. John Montagu, second duke of Montagu, who lived at Blackheath and visited the ladies whom Sancho served, took notice of him, and deemed his capacity above his station. The duke lent him books, and he read them with avidity. His mistresses grew more exacting, and after 1749, when his ducal benefactor died, he fled for protection to the duke's widow. She took him into her service as butler, and the post proved so profitable that at her death in 1751 he boasted of possessing 70l. and an annuity of 30l. A passion for gambling, which he managed to suppress, temporarily embarrassed him, and he made some effort to appear on the stage as Othello or Oronooko, but failed to obtain an engagement owing to his defective articulation. He soon resumed service with the Montagu family, and George, the fourth duke [q. v.], his first benefactor's son-in-law, treated him with every consideration. He now enjoyed abundant opportunities of satisfying his literary predilections. He read, on their first publication, the sermons and 'Tristram Shandy' of Laurence Sterne; and, impressed by Sterne's sympathetic references to the evils of slavery, he entreated him in a letter dated in 1766 to ease the yoke by 'handling' the subject in his 'striking manner.' Sterne replied in a sentimental vein (27 July 1766), and struck up an acquaintance with his correspondent. In the spring of 1767 Sancho procured promises of subscriptions for the ninth volume of 'Tristram Shandy' from the Duke and Duchess of Montagu and their son, Viscount Mandeville. Sterne, while thanking him for his efforts, pressed him to exact the money without delay. One of Sterne's latest letters—from Coxwold 30 June 1767—was addressed to 'his good friend Sancho' (Sterne, Letters, ed. Saintsbury, i. 129–31, ii. 18, 25).

The connection extended Sancho's reputation, and on 29 Nov. 1768 Gainsborough, while at Bath, painted his portrait at one rapid sitting. About 1773 Sancho's health failed, and he withdrew from domestic service, setting up as a chandler or grocer in a shop in Charles Street, Westminster. His literary ambition was unquenched, and he spent his latest years in penning epistles in Sterne's manner. Men of letters and artists befriended him. Nollekens took John Thomas Smith to visit him on 17 June 1780 (Nollekens and his Times, ii. 27). He died at his shop on 14 Dec. 1780, and was buried in Westminster Broadway.

He married 'a deserving young woman of West India origin,' and she, with at least two children, Elizabeth and William, survived him. For the benefit of the family, one of his correspondents, Miss Crewe, collected his 'Letters,' and published them in 1782 in two volumes, with an anonymous memoir by Joseph Jekyll [q. v.] The subscription list is said to have been of a length unknown since the first issue of the 'Spectator.' Gainsborough's portrait, engraved by Bartolozzi, was prefixed. The work was popular; a fifth edition was published in 1803, with a facsimile of Sterne's letter of 27 July 1766, and Jekyll's name on the title-page as author of the prefatory memoir; the publisher was Sancho's son William, who was then pursuing the career of a bookseller in his father's old shop in Charles Street.

The portrait by Gainsborough was presented by Sancho's daughter Elizabeth to Sancho's friend, William Stevenson of Norwich, and it was sold at Norwich by auction in March 1889, with the property of Stevenson's son, Henry Stevenson, F.S.A.

[Chalmers's Biogr. Dict.; Fitzgerald's Life of Sterne, ii. 370 et seq.; Sancho's Letters with Jekyll's Memoir; Notes and Queries, 7th ser. vii. 325, 427, 457, viii. 32, 296, 336.]

S. L.