Richard Boyle

(

1694

–

1753

)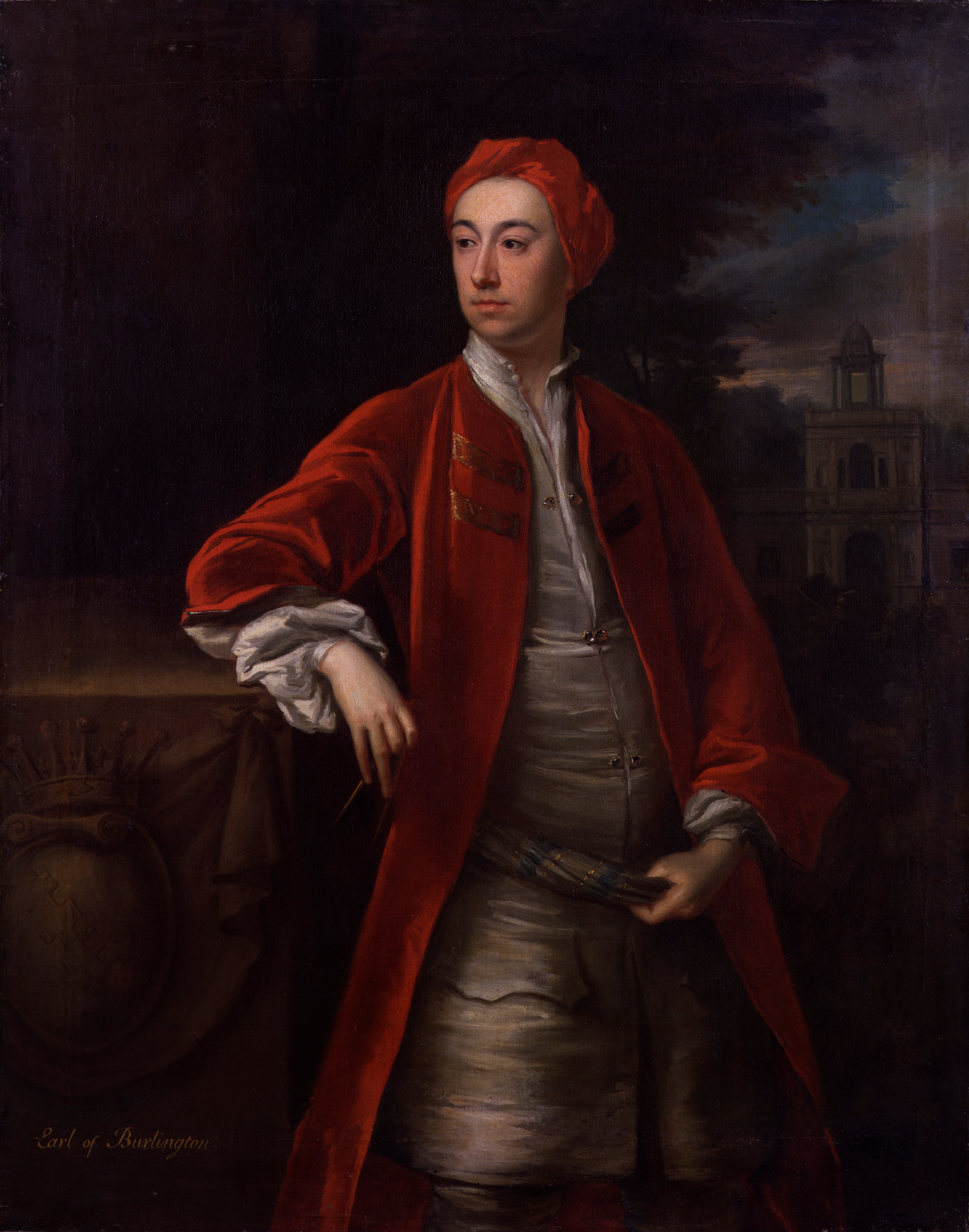 Biographical details
Pat Rogers, University of South Florida
October 2022
When Richard, Lord Boyle entered the world at Burlington House, Piccadilly, on 25 April 1694, he was truly born into the purple dyes of the Anglo-Irish aristocracy. The English earldom that he would inherit at the age of nine was not one of ancient lineage, as it had been bestowed on his great-grandfather in 1665. However, his Irish title as fourth Earl of Cork went back further, and brought with it huge landownings in Ireland previously granted to Sir Walter Ralegh. The most distinguished member of the family was the physicist and chemist Robert Boyle (1627–91), brother of the first Lord Burlington.
The boy went on to live for almost sixty years, but he would never visit his Irish estates. Instead, he became an unwavering Europhile with cosmopolitan tastes as a collector and patron. It was Horace Walpole, himself regarded as the prime minister of taste, who called Burlington the Apollo of the Arts, a description based on the Earl's activity as a practitioner and patron across a very wide range of cultural forms. The decisive phase of his life occurred when he took a Grand Tour in 1714–15, which created in him an enduring obsession with Italy, and was followed by a further trip to the south in 1719, which was designed chiefly to increase his understanding of Antonio Palladio's villas in and around Vicenza. This experience underlay his own practice as an architect, which constitutes the main ground for continuing scholarly interest in his career. However, he took a keen interest in landscape gardening, music, literature and the fine arts generally, including painting, sculpture, and furniture.
Yet, for all his contacts with the wider world, much of his life was actually spent at his three main estates in England. His country seat was at Londesborough in East Yorkshire, while he owned land in other places dotted around the county. This meant that he was one of the leading figures in York society, exercising considerable electoral influence in the region. More important in terms of the arts were Burlington House in central London and Chiswick Villa on the outer fringes of the city, in a semi-countrified village close to the Thames that had not yet become a suburb. Most of the Earl's professional activities radiated out from these two locations.
From his youth, Burlington picked up a clutch of offices, honours and distinctions. By the age of twenty-one he was Lord Treasurer of Ireland and a member of the Privy Council in Dublin. In effect these were sinecures that did not require anything so time-consuming as attendance in person or even much by way of working at home. Slightly more significance attached to his appointment as Lord Lieutenant of both the East and West Ridings of Yorkshire. These roles carried with them political patronage, as those who held them had a big say in the choice made by the Lord Chancellor of justices of the peace, the individuals charged with seeing that the law was upheld at a local level. In 1722 Burlington was elected as a Fellow of the Royal Society: even if he did not inherit the scientific gifts of his great forebear, he followed others with architectural talents such as Christopher Wren and Robert Hooke in promoting the study of natural philosophy and mathematics. Two years later he was admitted to the comparatively new Society of Antiquaries, where his credentials were unchallenged. Despite his standing in the world of virtù he never joined the Society of Dilettanti, probably because its reputation, deserved or not, as a group of bibulous libertines did not appeal to someone of his staid personality. In 1729 he was appointed to the English Privy Council, in 1730 he was installed as a Knight of the Garter, and a year later he was given a minor position at Court.
Up to this point, Burlington's career had seemed to represent the acme of success in respectable fields. Everything changed in 1733, when he broke with the Walpole government, partly out of pique (he may have expected, unrealistically, to be offered the post of Lord Treasurer), and partly because of the general hostility towards the government caused by Walpole's unpopular attempt to levy a range of excise duties. He did not become an active leader of the Opposition movement that grew up, as did many of those who like Burlington had encouraged the work of Alexander Pope. Still, the Epistle addressed to him by the poet in 1731 gives hints that he was not a natural ally for George II. At all events, he gave support to a Tory candidate during a fiercely waged election for the Yorkshire seat in 1734, taking a stand against the ministerial Whigs who toed Walpole's line. Attempts in recent years to suggest that the Earl was secretly a Jacobite all along have so far not found favour with most scholars.
Burlington had a relatively short career as an architect. He began with a small building he added at Chiswick, originally a Jacobean mansion that the first Earl had bought in 1682. After this he devoted increasing attention to the site, and following the destruction by fire of an entire range in 1725 he set about constructing a new villa alongside its predecessor. The design, completed by 1728, was modelled fairly strictly on Palladio, except for the introduction of an octagonal dome to replace the more conventional circular kind. Equal attention was given to the gardens, landscaped in the 1720s and 1730s by Charles Bridgman and William Kent, with an input by Pope of some undefinable scope. Meanwhile the Earl had carried out extensive alterations to Burlington House, which had been purchased by the first Earl around 1666. At first he drew on the Baroque-flavoured architecture of James Gibbs before settling on Colen Campbell, who was more in tune with the prevailing Palladian taste. It was Campbell who was mainly responsible for the new look given to the site in Piccadilly. The house stood at the heart of a large development that also included an area behind the mansion where the Earl made his own contribution to the designs. The surviving buildings are located in streets that bear names expressing family connections, for example Burlington Gardens, Cork Street and Savile Row. "Savile" comes from the maiden name of the peer's wife Dorothy Savile, a daughter of the Marquess of Halifax, whom he married in 1721. She brought to the union her wit, skill in drawing and painting in crayons, shared interests in music and drama, connection with the Court (where she would serve as a lady of the bedchamber to Queen Caroline), and of course a considerable fortune.
For a while Burlington carried out other architectural commissions, of which the most prominent were his stately dormitory for Westminster School (an establishment then operating as a nursery for the British ruling class), and a more elaborate design for the Assembly Rooms at York, in effect his home town outside the capital. He had acquired a fine collection of drawings by Palladio and Inigo Jones among others, which inspired him to prepare further plans, including an ambitious scheme for a new set of buildings to replace the mouldering Houses of Parliament at Westminster. But in the mid 1730s, perhaps in consonance with his new vein of opposition in politics, he ceased to pursue his own practice. Rather, he took on for the rest of his life the role of an unofficial arbiter of national taste, advancing the careers of protégés such as William Kent, sponsoring magnificent publications such as Kent's volume on Inigo Jones and Isaac Ware's edition of Palladio, and enlarging his fine library and collections. He died at Chiswick on 3 December 1753 and was buried at Londesborough.
He is famous for the practical help that, unlike many showy patrons, he gave to those working in the arts. Soon after George Friderick Handel arrived in London at the start of his long residence in Britain, the composer was given lodgings in Burlington House—and stayed there for three years. Burlington brought back from Rome three musicians who played in theatre orchestras performing Handel operas. He was a founding director of the Royal Academy of Music in 1719, and would remain a supporter of Handel until the events of 1733 left him aligned in the Opposition with the Prince of Wales—the politics of opera meant that he was thus attached to an alternative camp favouring Giovanni Bononcini. William Kent was also a house guest at Burlington's mansion for much of his life in the capital, while John Gay enjoyed a shorter stay as a house guest. Meanwhile, Pope paid frequent visits to Chiswick, and was offered land on the Burlington estate in 1718 to build a town house. He declined the offer with gratitude, as the home that the poet went on to erect at Twickenham better suited his needs and his finances.
The Italian writer and adventurer, Francesco Algoratti, once spoke enthusiastically to Frederick the Great of Prussia about the Earl as "the restorer of true architecture." His name was known throughout Europe, even though he did little by way of self-advertisement. Chiswick House and Gardens are now run by a trust and open to the public. Another fixture on the London skyline is the government-owned Burlington House, though it is much altered externally and internally. The learned societies which have enjoyed accommodation in the front courtyard since the Victorian age are now required to pay an astronomic rate demanded of commercial property in the neighbourhood of Piccadilly, and they may soon have to depart. However, the Royal Academy of Arts survives in the main building, and the annual exhibition held in its galleries provides a reminder that the site has played a central role in the culture of London since the days of the third Earl.
For an excellent survey of the Earl's major achievements in architecture and gardening, see John Harris, The Palladian Revival: Lord Burlington, His Villa and Garden at Chiswick (New Haven, 1994). A wider historical conspectus is provided by Lord Burlington: Architecture, Art and Life, ed. Toby Barnard and Jane Clark (London, 1995). The range of his patronage is well analysed by Jacques Carré, Lord Burlington (1694–1753): Le Connaisseur, le Mécène, l'Architecte (Clermont-Ferrand, 1993), especially the second part, pp. 163–282.
Dictionary of National Biography (1885–1900)

BOYLE, RICHARD, third Earl of Burlington and fourth Earl of Cork (1695–1753), celebrated for his architectural tastes and his friendship with artists and men of letters, was the only son of Charles, third earl of Cork, and Juliana, daughter and heir to Henry Noel, Luffenham, Rutlandshire. He was born 25, April 1695, and succeeded to the title and estates of his father in 1704. On 9 Oct. 1714 he was sworn a member of the privy council. May 1715 to 1721 he was lord-lieutenant of the East Riding of Yorkshire, and from June 1715 to 1733 of the West Riding. In August 1715 he was made lord high treasurer of Ireland. In June 1730 he was installed one of the knights companions of the Garter, and in June of the following year constituted captain of the band of gentlemen pensioners. Having before he attained his majority spent several years in Italy, Lord Burlington became an enthusiastic admirer of the architectural genius of Palladio, and on his return to England not only continued his architectural studies, but spent large sums of money to gratify his tastes in this branch of art. His earliest project was about 1716, to alter and partly reconstruct Burlington House, Piccadilly, which had been built by his great grandfather, the first earl of Burlington. The professional artist engaged was Campbell, who in 'Vitruvius Britannicus,' published in 1725, during the earl's lifetime, takes credit for the whole design. Notwithstanding this, Walpole asserts that the famous colonnade within the court was the work of Burlington; and in any case it may be assumed that Campbell was in a great degree guided in his plans by his patron's suggestions. That Burlington was chiefly responsible for the character of the building is further supported by the fact that it formed a striking and solitary exception to the bastard and commonplace architecture of the period. It undoubtedly justified the eulogy of Gay:

Beauty within; without, proportion reigns. (Trivia, book ii. line 494.)

But, as was the case in most of the designs of Burlington, the useful was sacrificed to the ornamental. The epigram regarding the building attributed to Lord Hervey—who, if he did make use of it, must have translated it from Martial, xii. 50—contained a spice of truth as well as malice. He says that it was

Possessed of one great hall of state, Without a room to sleep or eat.

The building figures in a print of Hogarth's intended to satirise the earl and his friends, entitled 'Taste of the Town,' afterwards changed to 'Masquerades and Operas, Burlington Gate.' Hogarth also published another similar print entitled 'The Man of Taste,' in which Pope is represented as white-washing Burlington House and bespattering the Duke of Chandos, and Lord Burlington appears as a mason going up a ladder. Burlington House was taken down to make way for the new buildings devoted to science and art. In addition to his town house Burlington had a suburban residence at Chiswick. He pulled down old Chiswick House and erected near it, in 1730–6, a villa built after the model of the celebrated villa of Palladio. This building also provoked the satire of Lord Hervey, who said of it that 'it was too small to live in and too large to hang to a watch.' The grounds were laid out in the Italian style, adorned with temples, obelisks, and statues, and in these 'sylvan scenes' it was the special delight of Burlington to entertain the literary and artistic celebrities whom he numbered among his friends. Here, relates Gay,

Pope unloads the boughs within his reach, The purple vine, blue plum, and blushing peach. (Epistle on a Journey to Exeter.)

Pope addressed to Burlington the fourth epistle of his Moral Essays, 'Of the Use of Riches,' afterwards changed to 'On False Taste;' and Gay, whom he sent into Devonshire to regain his health, addressed to him his 'Epistle on a Journey to Exeter,' 1716. Both poets frequently refer in terms of warm eulogy to his disinterested devotion to literature and art; but Gay, though he was entertained by him for months, when he lost in the South Sea scheme the money obtained from the publication of his poems, expressed his disappointment that he had received from him so 'few real benefits' (Coxe, Life of Gay, 24). This, however, was mere unreasonable peevishness, for undoubtedly Burlington erred rather on the side of generosity than otherwise. Walpole says of him 'he possessed every quality of a genius and artist except envy.' He was a director of the Royal Academy of Music for the performance of Handel's works, and about 1716 received Handel into his house (Schoelcher, Life of Handel, p. 44). At an early period he was a patron of Bishop Berkeley. The architect Kent, whose acquaintance he made in Italy, resided in his house till his death in 1748, and Burlington used every effort to secure him commissions and extend his fame. His enthusiastic admiration of Inigo Jones induced him to repair the church at Covent Garden. It was at his instance and by his help that Kent published the designs of Inigo Jones, and he also brought out a beautiful edition of Palladio's 'Fabbriche Antiche,' 1730. Burlington supplied designs for various buildings, including the assembly rooms at York built at his own expense, Lord Harrington's house at Petersham, the dormitory at Westminster School, the Duke of Richmond's house at Whitehall, and General Wade's in Cork Street. The last two were pulled down many years ago. Of General Wade's house Walpole wrote, 'It is worse contrived in the inside than is conceivable, all to humour the beauty of front,' and Lord Chesterfield suggested that, 'as the general could not live in it to his ease, he had better take a house over against it and look at it.' Burlington 'spent,' says Walpole, 'large sums in contributing to public works, and was known to choose that the expense should fall on himself rather than that his country should be deprived of some beautiful edifices.' On this account he became so seriously involved in money difficulties that he was compelled to part with a portion of his Irish estates, as we learn from Swift: 'My Lord Burlington is now selling in one article 9,000l. a year in Ireland for 200,000l., which won't pay his debts' (Swift's Works, ed. Scott, xix. 129). He died in December 1753. By his wife, Lady Dorothy Savile, daughter and coheiress of William, marquis of Halifax, he left three daughters, but no male heir. His wife was a great patroness of music. She also drew in crayons, and is said to have possessed a genius for caricature.

---

[Lodge's Irish Peerage, i. 177–8; Walpole's Anecdotes of Painting; Works of Pope, Gay, and Swift; Wheatley's Round about Piccadilly, 46–59.]

T. F. H.

---

Corrections from Dictionary of National Biography Errata (1904), p. 35, have been inserted in this entry.—Ed.