John Broughton

(

1704?

–

8 January 1789

)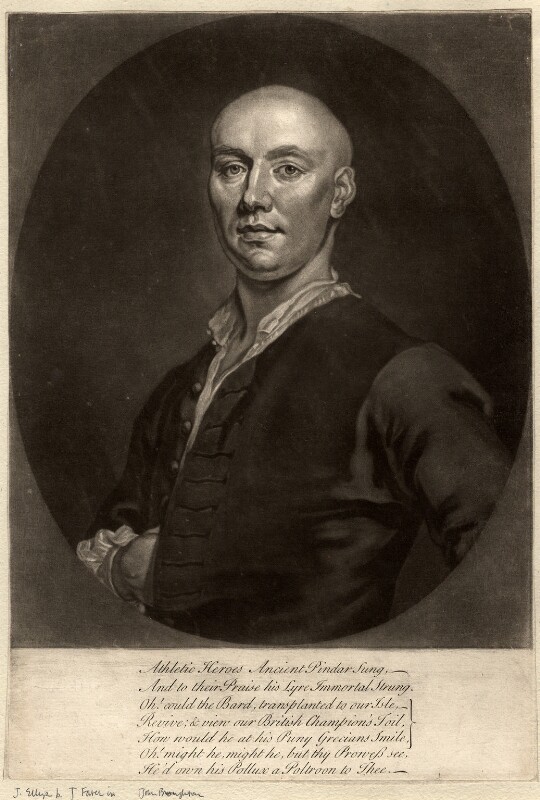 Allison Muri, University of Saskatchewan
July 2022
John (Jack) Broughton, pugilist, was born ca. 1704, probably in London. Apprenticed at a relatively late age in 1723 to a Waterman, he was assigned to a Lighterman (one who loads, unloads, and transports cargo on a lighter, a boat for carrying merchandise) on the same day (Tony Gee, ODNB). He plied at Hungerford Stairs and gained his freedom in 1729 or 30. Soon afterwards he turned to pugilism, which in Broughton's day entailed fighting with bare fists and not with boxing gloves or the "mufflers" he would provide to his students to "secure them from the Inconveniency of black Eyes, broken Jaws, and bloody Noses" (Proposals for Erecting an Amphitheatre for the Manly Exercise of Boxing, 1743, p. 4). He rose to become the predominant fighter of his day.
In 1734 he identified himself as "John Broughton, at the Sign of the Crown in St. James's Market, Waterman and Lighterman" (Daily Journal, November 23). In 1743 he opened his "New Amphitheatre," advertised as located at the "back of the late Mr. Figg's" or "near the late Mr. Figg's, in Oxford Road." He did not build a boxing theatre in nearby Hanway Street, Oxford Street, in 1742 as Pierce Egan in his Boxiana (1812) claims.
Broughton later became one of the king's bodyguard of the Yeomen of the Guard. Following an incident in 1750 where Broughton and pugilist Jack Slack had committed "personal Abuse to each other at the late Election at Brentford," Broughton came out of retirement as a pugilist to fight Slack at the Amphitheatre in Oxford Road, "when, no doubt, it will be attended with much Loss of Blood, if not Life," according to one newspaper announcement, which gave odds of six to one in favour of Broughton (Whitehall Evening Post, 7–10 April 1750). This would be Broughton's final match. An advertisement for the fight claimed he had had an "uninterrupted Course of Victories" for the previous twenty-four years (Gee), but Broughton had not fought for several years and in just over fourteen minutes he was defeated by Slack.
In 1768–9 Broughton was implicated in hiring a number of thugs to appear in Brentford during the election of one of the candidates, Sir William Beauchamp Proctor, for Knight of the Shire for the county of Middlesex. One witness testified that the men sported "Proctor and Liberty" labels on their hats and told him they could not vote but the bludgeons in their hands were just as good, and if Serjeant Glynn were to get the advantage, they swore "By God we will have his Blood" (Public Advertiser, 14 December, 1768). Two men, one of them hired by Broughton according to court testimony, were charged for the murder of another in the ensuing riot. They were found guilty but later pardoned, not without controversy. The papers reported regularly on the trial and its outcomes, with increasing outrage at the role of Broughton and others in the events of the riot. On 10 July, 1769, the Gazetteer and New Daily Advertiser reported that Broughton, along with the hired rioters McQuirk and Balse, had been arraigned under consideration for exportation, as "Assistants in the Butchery." Broughton, however, was still employed as a Yeoman of the Guards "in the houshold service of his Majesty" two years later, complained an editorial in the Middlesex Journal (March 26–28, 1771).
Broughton died in 1789 at the age of eighty-four or eighty-five. He was buried in the west cloister of Westminster Abbey on 21 January in a wood coffin beside his wife Elizabeth, who had died 7 December 1784, at the age of fifty-nine (Westminster Abbey). The Morning Herald 2568, Tuesday, January 13, 1789, featured an affectonate eulogy:
The admirers of the fashionable science of Boxing should now put themselves in deep mourning, for on Thursday the famous Mr. John Broughton, whose skill in that branch of modern education will be ever recorded in the annals of Athletics, concluded his earthly career in the eighty-fifth year of his age, at this house in Walcot-place, Lambeth.
It is generally acknowledged by amateurs in this science, and even its most distinguished professors, that Broughton carried the theory and practice of it to the highest point of perfection; and that what his genius could not accomplish, it is vain for human abilities to attempt.
Broughton's history is speedily related. He served an apprenticeship to a waterman, and when he was able to follow his business on his own account, generally plyed at Hungerford-stairs. Upon some accidental difference with a brother of the oar, which was decided at once by a manly appeal to the fist, it was soon found he possessed a genius far beyond the grovelling province in which it was confined, and therefore leaving his boat to sink or swim, he assumed the dignified rank of a Public Bruiser, and in this character was patronized by some of the first men in the kingdom.
Supported by this patronage, which his powerful abilities amply deserved, he instituted a pugilistic academy in Tottenham-court-road, where his pupils, and those who felt a laudable thirst after fame, had an opportunity of signalizing their dexterity and prowess before the highest and most polite audience that the nation could supply.
In this illustrious situation, Broughton frequently astonished his scholars and the public, by a display of his own pre-eminence, and was always triumphant, till his sad contention with Slack, in which, to adopt the language of his seminary, he came off second best.
After this lamentable failure, which, however, contributed more to the present mortification, than the consequent disgrace of Broughton, he retired into private life, subsisting very comfortably upon the produce of his hands, and his situation as one of the Yeomen of the Guards.
It should have been mentioned before, that Broughton was highly in favour with the late Duke of Cumberland, and attended one of his military expeditions on the Continent, where, on being shewn a foreign regiment of terrific appearance, the Duke asked him if he thought he could beat any of the men that composed it—upon which Broughton replied, "Yes, please your Royal Highness, the whole corps, with a breakfast between every battle."
Such is the brief story of our British Milo.
The best biography of John Broughton is by Tony Gee, Oxford Dictionary of National Biography, https://doi.org/10.1093/ref:odnb/3586.
Dictionary of National Biography (1885–1900)

BROUGHTON, JOHN (1705–1789), pugilist, was born in 1705, but there is no record of his birthplace, although it may be assumed to have been London. As a boy he was apprenticed to a Thames waterman, and, when at work on his own account, he generally plied at Hungerford Stairs.

He is usually considered as the father of British pugilism, combats, previous to his appearance, having been chiefly decided either by backsword or quarterstaff on a raised stage. Accident settled his future career. Having had a difference with a brother waterman, they fought it out; and he showed so much aptitude for the profession which he afterwards adopted, that he gave up his boat and turned public bruiser, for which his height (5 ft. 11 in.) and weight (about 14 stone) peculiarly fitted him.

He attached himself to George Taylor's booth in Tottenham Court Road, and remained there till 1742, patronised by the élite of society, and even royalty itself in the person of the Duke of Cumberland, who procured him a place, which he held until his death, among the yeomen of the guard. But the duke ultimately deserted him. Broughton fought Slack on 11 April 1750, and the duke backed his protégè the champion, it is said, for 10,000l. Broughton lost the fight, having been blinded by his adversary, and the duke never forgave him for being the cause of his loss of money. After this battle Broughton's career as a pugilist was ended. In 1742 he quarrelled with Taylor, and built a theatre for boxing, &c., for himself in Hanway Street, Oxford Street. There he performed until his retirement, when he went to live at Walcot Place, Lambeth. He resided there until his death, on 8 Jan. 1789. He amassed considerable property, some 7,000l., and dying intestate, it went to his niece. He was buried on 21 Jan. 1789 in Lambeth Church, his pall-bearers being, by his own request, Humphries, Mendoza, Big Ben, Ward, Ryan, and Johnston, all noted pugilists. His epitaph was as follows:

Hic jacet
Iohannes Broughton,
Pugil ævi sui præstantissimus.
Obiit
Die Octavo Ianuarii,
Anno Salutis 1789,
Ætatis suæ 85.

[Capt. Godfrey's Treatise upon the Useful Science of Self-Defence, 1747; Pugilistica; Boxiana; Fistiana; Morning Post, January 1789.]

J. A.