John Christopher Smith

(

1712

–

1795

)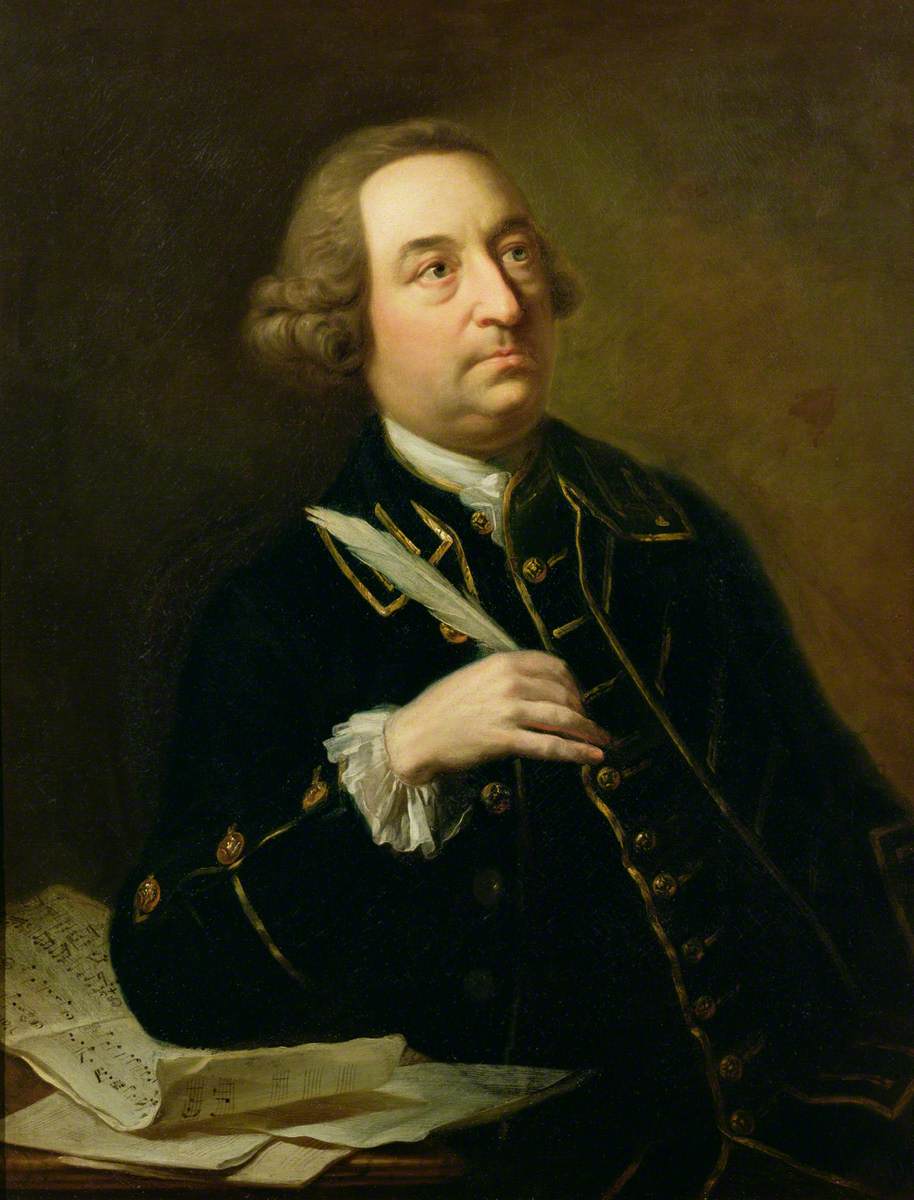 Paul F. Rice, Memorial University of Newfoundland
November 2022
While the name of John Christopher Smith the younger (1712–95) is not remembered with an acclaim similar to that of Handel, Boyce or Arne, he enjoyed a significant career and contributed greatly the musical life of London. He was much associated with George Frederick Handel (1685–1759) at various points in his career, particularly when Handel's growing blindness inhibited his public performances. After Handel's death, Smith continued Handel's musical legacy and regularly led performances of his oratorios.
Smith was born in Anspach, Germany, and christened Johann Christoph Schmidt. His father was convinced by Handel to move to London in 1716, where the elder Schmidt served as Handel's treasurer and principal music copyist. Schmidt's wife and children followed him to London in 1720 at which time the family anglicized their surname. The son displayed musical promise at an early age and it was long rumoured that Handel provided the young boy with his initial training in music. Handel, however, had little time in his busy schedule for teaching and composition lessons were then provided by J.C. Pepusch (1667–1752) and Thomas Roseingrave (1690/91–1766). Roseingrave, the flamboyant Irish-born composer and keyboard performer, may have had a significant influence on the young Smith since his first published music was a collection of harpsichord suites from 1732. Ultimately, however, it was the influence of Handel's style that remained strong in Smith's music, perhaps too much so for one who lived until 1795 when musical styles had changed radically. As Percy Young writes, "Smith was not the first to suffer the fate that goes with a too close relationship with, and loyalty to, a creative genius of the first order. In spite of his attempts to escape from constriction he was clearly marked as a Handelian" (Introduction to Anecdotes of George Frederick Handel and John Christopher Smith, 1979).
Smith set out on his own at the age of eighteen as a composer and music teacher. In the spring of 1730, however, he contracted tuberculosis and had to give up all musical activities until the following autumn. His health was never truly strong thereafter. In the first half of the 1730s Smith attempted to write Italian-style operas set to English texts. In 1732, J.F. Lampe (ca. 1703–51), Thomas Arne (1710–78), Henry Carey (ca. 1687–1743), and Smith joined forces to establish a tradition of opera in the English language. Two full-scale operas from Smith followed: Teraminta (1732) and Ulysses (1733), both at the Lincoln's Inn Fields. Their failure greatly discouraged Smith who was only just in early twenties at the time. He did not compose another full-length opera for over twenty years. Smith continued his association with Handel, however, and copies of the latter's works from the 1730s, often heavily revised, are in Smith's hand. When Handel's eyesight began to deteriorate after 1737, it was Smith who played the harpsichord continuo in the performances of Handel's operas.
Beginning in 1740, Smith produced a series of 20 subscription concerts in London, with several large-scale newly composed works including an oratorio and five Italian operas, not all of which survive. He also continued his work with Handel, but the combination of overwork and the deaths of Smith's wife and their two young children caused him to turn his back on the world of music and embrace the world of the arts more generally. Around 1745 or 1746, he accepted the offer from a "wealthy friend to receive financial independence for accompanying him on an extended journey to Southern Europe, to be undertaken both for reasons of health and for the sake of meeting a distinguished literary circle" (Alfred Mann, "Handel's successor: J.C. Smith the younger," Music in Eighteenth-Century England, 1983). Smith continued his interest in Italian opera on the Continent where he composed three operas, all to texts by Pietro Metastasio.
By 1750, the deterioration of Handel's eyesight was so advanced that he requested that Smith return to Britain. From 1751 until Handel's death in 1759, Smith effectively took over the preparation and performances of Handel's oratorios. Smith was a fine organist and he succeeded Handel as the first organist at the Foundling Hospital Chapel in 1754. It was around this time that Smith became acquainted with David Garrick at the Drury Lane Theatre who encouraged the composer to resume the composition of opera in English. For Garrick, Smith composed two full-length operas based on Shakespearean plays: The Fairies (1755, based on A Midsummer's Night Dream) and The Tempest (1756). The mediocre libretti have been attributed to Garrick, and only The Fairies enjoyed a modicum of success. The overtures to the two operas were published in separate parts and were often performed as concert entities, especially at the Vauxhall Gardens. Smith and Garrick collaborated only one further time at the Drury Lane Theatre with a two-act afterpiece called The Enchanter or Love and Magic (December 13, 1760). As a Christmas entertainment full of magic and exoticism, The Enchanter proved to be popular with audiences, receiving twenty performances over two years.
Smith, however, decided to leave the world of opera behind and, following in Handel's footsteps, he turned his attention to the oratorio genre. He directed the Lenten oratorio performances at the Theatre Royal, Covent Garden, between 1760 and 1774, contributing nine of his own works to the repertoire. Plagued by ill health, Smith retired to Bath in 1774 where he remained for the rest of his life. Other than undertaking some teaching at a girls' school in Bath, he had little connection with the musical activities of that city. In 1799, William Coxe offered an explanation for this situation:
Though he loved the art [of music], he found himself unequal to the trade, and had not courage to encounter obstacles, or patience to reconcile contending interest. His spirit was so liberal and independent, that he could never bend to the circumstances of the times, nor sufficiently consult the taste of the age, if he deemed that taste frivolous or capricious: he could not be induced to sacrifice his own feelings and judgement to expected profit.—Anecdotes of George Frederick Handel and John Christopher Smith, 1979
Dictionary of National Biography (1885–1900)

SMITH, JOHN CHRISTOPHER (1712–1795), musician, born at Anspach in 1712, was the son of John Christopher Schmidt, a wool merchant of that city. The father, an enthusiastic amateur of music, threw up his business in 1716 and followed his friend Handel to England in the capacity of treasurer. Four years later he sent for the family he had left behind him in Germany. His eldest son, John Christopher, was sent to school at Clare's academy, Soho Square. He showed considerable aptitude for music, and at thirteen Handel offered to give him his first instruction in the art. He was, says Fétis, the only pupil Handel ever took (Biographie Universelle des Musiciens, viii. 221). Smith also studied theory under Dr. John Christopher Pepusch [q. v.] and Thomas Roseingrave [see under Roseingrave, Daniel]. Very early in life he was established as a successful teacher. At eighteen his health suffered from excessive application to music, and the physician Dr. Arbuthnot invited him to spend the summer at his house in Highgate. The rest proved beneficial, and the symptoms of consumption were arrested. At Highgate Smith had the advantage of meeting Swift, Pope, Gay, and Congreve. In 1732 he composed an English opera, 'Teraminta,' and the following year a second opera, 'Ulysses.' Subsequently he spent several years on the continent.

In 1751 Handel's sight became affected, and, at his desire, Smith returned to England to fill his place at the organ during the oratorio performances. He also acted as the composer's amanuensis, and Handel's latest compositions were dictated to him. In 1750 he was appointed first organist of the Foundling Hospital. Smith was intimately acquainted with Garrick, who was instrumental in producing his opera, 'The Fairies,' at Drury Lane in 1754. This musical drama, which was adapted from 'Midsummer Night's Dream,' had an excellent reception. A similar work, arranged from the 'Tempest,' was less appreciated, though the song 'Full fathom five' became permanently popular.

Handel bequeathed to his old pupil all his manuscript scores, his harpsichord, his portrait by Denner, and his bust by Roubiliac. When Handel announced a wish to alter the bequest, and present his manuscripts to Oxford University, Smith declined an offer of a legacy of 3,000l. by way of compensation. After Handel's death in 1759 Smith, with the assistance of John Stanley, carried on the oratorio performances until 1774, when, the attendance having greatly fallen off, he gave up the conductorship and retired to his house in Upper Church Street, Bath. He composed several oratorios, 'Paradise Lost,' 'Rebecca,' 'Judith,' 'Jehoshaphat,' and 'Redemption,' as well as the Italian operas 'Dario,' 'Il Ciro riconosciuto,' and 'Issipile.' He taught the harpsichord to the Dowager Princess of Wales, one of his most generous patrons, whose death in 1772 he commemorated by a setting of the burial service. Out of gratitude for the many favours received from the royal family, Smith presented George III with Handel's manuscript scores—which are now at Buckingham Palace—as well as Handel's harpsichord and the bust by Roubiliac, which are now preserved at Windsor Castle. Smith died at Bath on 3 Oct. 1795.

[Anecdotes of Smith and Handel by the Rev. William Coxe, containing a portrait of Smith engraved from an original picture by Zoffany; Mason's Gray, 1827, p. 415; Burney's History of Music; Rockstro's Life of Handel; Grove's Dictionary of Music.]

R. N.