Anna Selina Storace

(

1765

–

1817

)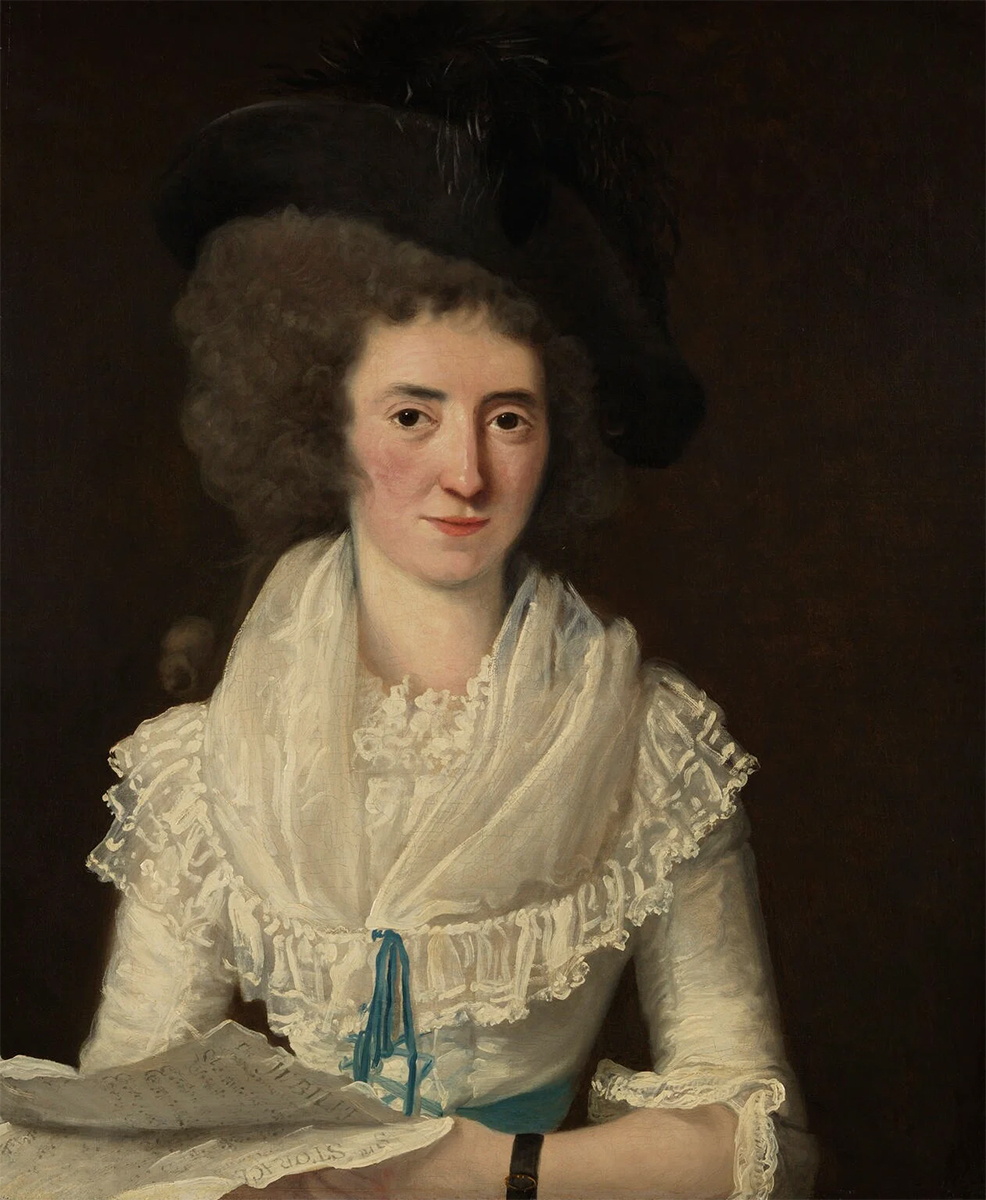 Identifiers
Occupations
Names
Anna Selina Storace
Nancy Storace
Paul F. Rice, Memorial University of Newfoundland
April 2023
Anna Selina [Nancy] Storace (1765–1817) was the second child of the Italian immigrant Stephano Storace (c.1725−c.1781), a double bass player and composer, and Elizabeth Trussler (c.1742−1824). Both Nancy and her elder brother Stephen (1762−96) possessed great musical talent and were given a thorough musical education. Michael Kelly (1762−1826) later recorded that "she evinced an extraordinary genius for music" (Reminiscences, 1826). Nancy's singing voice emerged while she was still very young and she attracted the attention of two great singing masters: Antonio Sacchini (1730−86) and Venanzio Rauzzini (1746−1810). Both men actively undertook to foster her talent and promote her career. Rauzzini took her to the Three Choirs Festival in Worcester in 1776 and the Morning Post and Daily Advertiser (September 10, 1776) noted her presence in the performance of Handel's Joshua at St. John's House. In 1776–7, she appeared as Cupid in the performances of Rauzzini's Le ali d'Amore at the King's Theatre. Rauzzini's benefit night at this theatre (July 6, 1777) featured this opera and introduced his new cantata called La partenza which he performed with the young soprano. In 1778, it was decided that she should study at the San Onofrio Conservatory in Naples, where her brother Stephen had previously studied. A benefit concert was arranged for April 27, 1778, at the Ancient Music Concert Room. The programme was published in the Gazetteer and New Daily Advertiser for the day of the performance, which included the rationale for the concert: "Miss Storace humbly solicits the favour of her friends on this occasion as she is going to Italy the ensuing summer for improvement." The evening was a glittering affair which featured famous soloists—including Rauzzini—and the whole evening was under the direction of Sacchini.
In Italy, her vocal progress was immediate and she was soon singing in public concerts in Naples. Next came Florence were she sang in opera while her brother performed harpsichord in the opera-house orchestra; all this while she still in her mid-teens. According to Michael Kelly, Nancy fell foul with the famous castrato Luigi Marchesi (1754–1829) when she copied his ornamentation. Kelly records that Nancy was fired as a result, but that she went on to sing in Lucca, Leghorn, Parma, Milan, and Venice. In 1783, both she and Kelly accepted contracts from Emperor Joseph II to sing Italian opera in Vienna. They remained there for four years, with Nancy performing prima buffa roles to great acclaim. She appeared in operas by Giovanni Paisiello (1740–1816), Vicente Martín y Soler (1754–1806), Antonio Salieri (1750–1825), Giuseppe Sarti (1729–1802), Wolfgang Amadeus Mozart (1756–91), and her brother Stephen. Nancy created the role of Susanna in Mozart's Le nozze di Figaro in 1786.
While in Vienna, Nancy contracted a marriage on March 29, 1784, to the British violinist John Abraham Fisher (1744–1806), someone more than twice her age. He was vain and eccentric in the extreme, although an artist of some repute. Through his first marriage to Elizabeth Powell, Fisher had received a one-sixteenth share of the Covent Garden theatre. Following his wife's death in 1780, Fisher had sold his share in the theatre and undertook a long tour of the Continent, with concerts in France, Germany and Russia, before arriving in Vienna in 1784. He was described by Michael Kelly in his Reminiscences as "a very ugly Christian." Kelly goes on to describe the strange courtship with Nancy: "the harmonious Doctor ... laid siege to poor Nancy Storace; and by dint of perseverance with her, and drinking tea with her mother, prevailed upon her to take him for better for worse, which she did in despite of the advice of all her friends" (Reminiscences, 1826). The story might sound fanciful, but it was likely that Nancy's mother saw the advantages of seeing her vivacious daughter safely married, especially since she had already caught the eye of several prominent men in Vienna. The marriage proved unhappy and was short-lived; when the emperor heard reports that Fisher treated Nancy brutally, he was banished from Vienna. A daughter born to Nancy from this unfortunate union lived only a few months.
Misfortune continued to plague Nancy in Vienna and, on June 1, 1785, she suffered a total failure of her voice during a performance of her brother's opera Gli sposi malcontenti. It is possible that so much singing at an early age led to this vocal breakdown. It took five months of hard work for her to recover her singing voice and, even then, it seems that its quality was never the same. Charles Burney was later to record:
But though a lively and intelligent actress, and an excellent performer in comic operas, the voice, in spite of all her care, does not favour her ambition to appear as a serious singer. There is a certain crack and roughness, which, though it fortifies the humour and effects of a comic song, in scenes where laughing, scolding, crying, or quarrelling is necessary; yet in airs of tenderness, sorrow, or supplication, there is always reason to lament the deficiency of natural sweetness, where art and pains are not wanting. (History of Music IV, 1789)
After four years in Vienna, the Storaces (including their mother Elizabeth), Michael Kelly, and the composer Thomas Attwood (1765–1838) returned to Britain. A farewell concert was mounted on February 23, 1787, for which occasion Mozart wrote the recitative and aria "Ch'io mi scordi di te?" This work was a duet for soprano and piano with orchestra with a text that is believed to have been written by Lorenzo Da Ponte (1747–1838). The heartfelt nature of the text ("You ask that I forget you?") has led some to conjecture that Mozart had developed romantic feelings for the singer.
Nancy was soon at work in London. On April 24, 1787, she appeared in Paisiello's Gli schiavi per amore at the King's Theatre, the score of which was larded with additional arias for her. The St. James's Chronicle (April 24–6, 1787) recorded that "Signora Storace, without many Advantages from Person, is a very useful Acquisition to the Opera. Her Voice is melodious, her musical Skill considerable, and her Manner expressive." The reviewer's comments on her personal disadvantages no doubt refer to the singer's small stature and plump figure. After two years at the King's Theatre, Storace followed her brother to the Drury Lane theatre where he became the de facto house composer. There, she achieved great acclaim for her performances of her brother's English operas, The Haunted Tower, No Song, no Supper, The Siege of Belgrade, and The Pirates. She did not give up singing in Italian opera, however, and she performed for a season at the King's Theatre in 1793.
Nancy Storace was also accomplished as a concert singer. She took part in the Handel Festival at Westminster Abbey in 1787, and regularly performed in oratorios in London and in the provinces. On 1791 and 1795 she took part in the concerts that attended the visits of Haydn to London. She showed her allegiance to her old singing master Venanzio Rauzzini by regularly appearing at his Bath concert series. Her last appearance there was in 1809. Following the death of Stephen Storace in 1796, Nancy left the Drury Lane theatre. The following year, she undertook a long concert tour of the Continent in the company of the tenor John Braham (1774/77–1856). Both singers had been trained by Venanzio Rauzzini and had performed together at the Drury Lane theatre. Storace and Braham lived as man and wife until 1816, and a son was born to them in 1802.
Returning to London in 1801, Nancy joined the company at the Theatre Royal, Covent Garden, where she appeared in English operas, excelling in comic roles. She returned to the King's Theatre in 1805, but rejoined the Drury Lane company the following year. She sang for both theatres over the next few years but her vocal decline became sufficiently advanced that a farewell stage performance was give at Drury Lane on May 30, 1808. The Morning Chronicle for that day announced the programme.
SIGNORA STORACE'S LAST NIGHT, and LAST AP-
PEARANCE ON THE STAGE.
THEATRE ROYAL, DRURY LANE.
This Evening Signor NALDI will make his first and only ap-
pearance in Public this Season, when will be acted (for the
last time) the comic Opera of The CABINET.
The Song "The Hat" by Signora Storace. Also will be
Presented an Italian Cantata, in which Signor Naldi, Signora
Storace, and Mr. Braham will perform. To conclude with a
Farewell Address, in Music, by Stignora Storace.
Nancy Storace's career demonstrates her resilience and ability to adapt to changing circumstances. She was one of the very few British singers to achieve success in Italian opera houses. In Vienna, she created a leading role in one of the pillars of the operatic repertoire. Upon her return to Britain, she performed at all three of the major theatres in London. She was a much-loved artist whose performances gave great pleasure. Mount Edgcumbe records that Storace was "in her own particular line on the stage ... unrivalled, being an excellent actress, as well as a masterly singer" (Richard, Second Earl of Mount Edgcumbe, Musical Reminiscences, 1828).