Hester Lynch Piozzi

(

1741

–

1821

)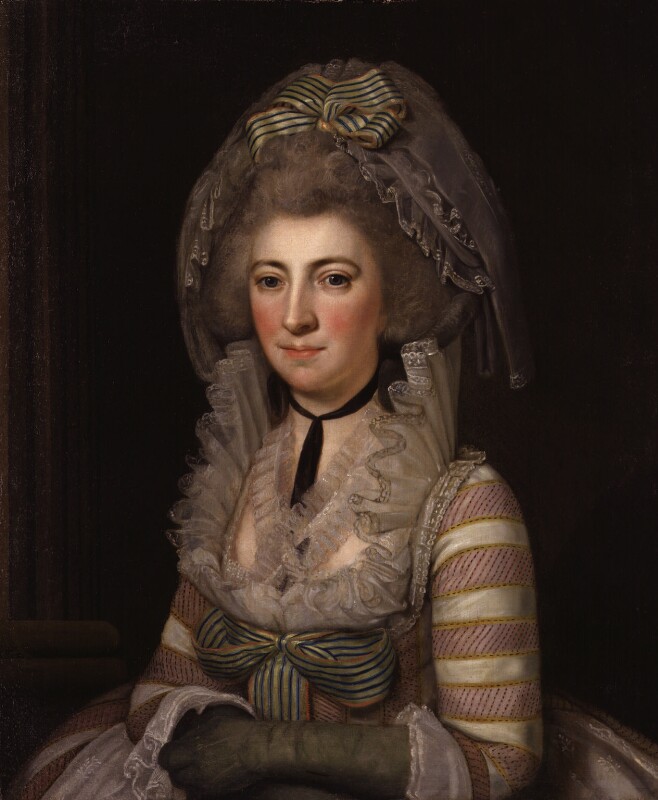 Sharon L. Jansen, Pacific Lutheran University
July 2022
Hester Lynch Salusbury (Thrale) Piozzi
Hester Piozzi (1741–1821), frequently referred to as Hester Thrale or as "Doctor Johnson's Mrs. Thrale," was long recognized primarily for her friendship with the poet, essayist, and lexicographer Samuel Johnson, whom she met in 1765. More recently—and at long last—she has been acknowledged for her own literary achievements.
Hester Lynch Salusbury was born at Bodvel Hall (Caernarvonshire, Wales) on 16 January 1741, the daughter of Sir John Salusbury and Hester Maria Cotton. (After England adopted the Gregorian calendar in 1752, Hester would thereafter celebrate her birthday on 27 January).
Sir John and his wife were first cousins, both members of the Anglo-Welsh Salusburys, a family with notable court connections extending back to the reign of Henry VIII. But by the time of Hester's birth, the family's fortunes were in decline. Hester would later write that when her grandfather had become "Head of the Family," the Salusbury "Fortune, small as it was, was mortgaged deeply; and involved in every possible Confusion and Distress." Her father was equally improvident; he was, in Hester's estimation, a "wild young fellow with Spirit to Spend money"—a young "fellow" who quickly discovered he had "very little to spend." And so he went to London, where he thought to make a success of himself. His career is zestfully described by his daughter: he "fell in with" a young woman "of large & independent fortune," and the two enjoyed themselves as long as "her Taste to his Company" lasted. After the two parted, he "picked up another female Friend," with whom he stayed until "all her Pelf [money] was exhausted."
At this point Sir John went abroad to act as a traveling companion to his cousin, Sir Robert Salusbury Cotton. According to his daughter's later account, Sir Robert "paid [Sir John's] Expenses, & was pleased with his Company; the more perhaps as he did not suspect the attachment his own Sister Hester had" to her cousin. In Hester's words, her "poor Mother" was a "half starved, untaught Gawkee Girl" who educated herself through "assiduous" study and grew into an "eminent" beauty. Unfortunately, this young woman, "so lovely a Creature both in Body & Mind," had "secretly set her Heart upon her flashy Cousin John" and "resolved to bestow" herself and her small fortune on him. In 1739, the two were married. For his part, Sir Robert "protested he would never see either of them more; and now they had only to consider how, and where they should live."
Unable to afford a life in London, the pair departed for Wales and rented Bodvel Hall, where two years later their only child, Hester Lynch Salusbury, was born. Hester's depiction of the couple's desperate life—in isolation, poverty, and violence—is harrowing. But despite their opposition and strife, her parents shared a delight in their daughter, who became (in her words) a "Centre of Unity" for them. The family found a brief respite with Sir Robert; now a lonely widower, he reconciled with his sister and took a particular interest in his five-year-old niece. But after several months, Sir Robert had had enough of his sister's husband—while he was happy to have Hester Maria and Hester remain with him, Sir John himself would have to go. Sir Robert suggested "it was High Time" for his cousin "to go to London & see what he could do towards getting his own Living."
John Salusbury did go to London in 1747, but when he left, he took his wife and daughter with him, initially lodging at "a Staymaker's ... the Black Lyon in King Street Soho." In his daughter's later tart assessment, her father "ran about among his Friends" rather than finding a way to support his wife and daughter. Sir Robert eventually offered the family a refuge in his own house on Albemarle Street; Hester recalled seeing a great solar eclipse when she was living there (14 July 1748).
In London, one of Sir John's friends introduced him to the earl of Halifax. Hester would become a great favorite of Halifax's daughter, while Halifax became something of a patron for Sir John Salusbury—in May 1749, he found himself on his way to Nova Scotia, accompanying the newly appointed governor, Edward Cornwallis. Halifax had named the financially challenged Sir John Salusbury as Register and Receiver of Rents for the colony.
In her father's absence—and after the death of her uncle, Sir Robert Cotton, who had not left his niece his fortune as her mother and father had hoped—Hester and her mother bounced from one temporary lodging to another, at times living with her maternal grandmother, Philadelphia Lynch Cotton, at times with her father's brother, Sir Thomas Salusbury, at Offley Place (Hertfordshire). Meanwhile, the venture in Nova Scotia failed to improve Sir John's finances—in 1753 he returned to London to find that what was left of his Welsh estates had been badly managed in his absence. And yet, despite his continued financial difficulties (and likely with his brother's assistance), Sir John somehow provided a tutor for his daughter, an academic named Dr. Arthur Collier, a classical scholar who had previously taught Sarah Fielding, sister of the famous novelist and, herself, a novelist, biographer, literary critic, and translator. Hester developed a deep love and respect for Collier, a "Man of Perfect Worth" and "profound Erudition," who taught her Latin, grammar, and logic and who offered her his "attentive" and generous friendship.
The years following Sir John Salusbury's return from Nova Scotia were relatively stable ones and marked Hester's first literary efforts. By age sixteen, she had begun writing poetry and, having also acquired a French tutor, she attempted translations from Racine. There were prospective husbands, too, and by 1761, one emerged whom her uncle, Sir Thomas, deemed a "Model of Perfection." The son of a rich brewer, Henry Thrale was proud of the way his father had risen from nothing to become a prosperous and successful man—he had no trouble in telling Sir Thomas that the place of "his Father's Nativity" was, as Hester would later describe it, now being used as a "Dog Kennel" on Sir Thomas's estate.
Hester's mother and uncle were, in her words, "mad for the Match," though her father was not at all keen, put off both by Thrale's "mean birth" and by the fact that his wife and his brother were both in favor of it. Sir John's "furious Temper" and "Aversion" led to his daughter's insistence that, as her father, he alone "had the sole Right to dispose of her." Reassured or not by his daughter's professions of duty, Sir John Salusbury died suddenly on 18 December 1762. Within a year, on 11 October 1763, Hester Lynch Salusbury married Henry Thrale. (Dr. Collier, the young Hester's "most disinterested and deserving friend," had written to advise her against the match, reminding her of her father's "abhorrence" of it—Hester's mother "would not permit" her daughter to answer the letter or, sadly, to "see the Dr. any more.")
Like many eighteenth-century marriages, husband and wife were not particularly compatible. About her first marriage, Hester Salusbury, now Hester Thrale, would say that except for one five-minute conversation, "I never had a Teste a Teste [tête-à-tête] with my Husband in my whole Life till quite the Evening of the Wedding Day." She was also frank in her admission that Thrale had married her from "prudential Motives": she was "passive, tho' well born & educated" and "content" to live with Thrale in his house, Borough, at his brewery in Southwark, "which other Women had refused to do." Nevertheless, despite their differences, she says "we lived on Terms of great Civility & Politeness, if not of strong Alliance and Affection."
Thrale required a wife who would not only live near his brewery but produce children, and Hester dutifully fulfilled his requirements. Her first child, named Hester Maria, was born on 17 September 1764, just eleven months after the couple's marriage. During the first fifteen years of her marriage, Hester was pregnant at least thirteen times and gave birth to twelve children—though only four daughters would survive into adulthood.
In her assessment of her husband, Hester wrote that he "loves Money & is diligent to obtain it." But he "loves Liberality too," she added, "& is willing enough both to give generously & spend fashionably." Most of Henry Thrale's generous and fashionable spending seemed to take place in the theatres and opera houses of the city, where he preferred to spend his evenings while his wife remained at the brewery-house where, she wrote, her "Society" was "exceedingly circumscribed," for few people "would come to so strange a Place." But on 9 January 1765, a friend of Henry Thrale's brought his friend, Samuel Johnson, to dinner, and so successful was the evening that Johnson became a weekly visitor. In the summer of 1766, Johnson lived for several months with the Thrales at Streatham Park, a country house Henry Thrale's father had built on an estate in Surrey. Johnson spent much of the next seventeen years living and traveling with the Thrales.
And so, despite the unfortunate location of Henry Thrale's brewery-home and in spite of her many pregnancies, Hester managed to widen her "exceedingly circumscribed" society. Her intimate acquaintances, "the Streathamites," grew to include not only writers like Johnson, Oliver Goldsmith, and Fanny Burney, but also politicians like Edmund Burke, actors and theatrical people like David Garrick, and artists, like Sir Joshua Reynolds, who painted Hester and her eldest daughter, Hester Maria, whom Johnson nicknamed "Queeney."
While Henry Thrale preferred that his wife not meddle in household management or go out riding, he did not discourage her interest in writing. In 1762, before her marriage, she had published a poem and a piece of prose; after her marriage, with her husband's support, she continued to write. In 1766, she began preserving the "Corporeal & Mental powers" of the two-year-old Hester Maria in what she called The Children's Book, later expanded to Family Book. By 1768, following Johnson's advice to "get a little Book," she got two: one in which to record anecdotes of Johnson and his "sayings," and one in which to preserve anything and everything that struck her fancy. In 1776, on his wife's thirty-fifth birthday, Henry Thrale presented Hester with six blank quarto books, bound in calfskin, each volume with a red label bearing the title "Thraliana" stamped in gold. She would begin with an entry dated "15:September 1776" and conclude with a final entry, on 30 March 1809: "Every thing most dreaded has ensued,—all is over; and my second Husbands Death is the last thing recorded in my first husband's Present! Cruel Death!"
Henry Thrale died on 4 April 1781, and many of the couple's friends and acquaintances expected his widow to marry Dr. Johnson—instead, on 25 July 1784, Hester Thrale married Gabriel Mario Piozzi, an Italian musician who had been her eldest daughter's music teacher. Two days later, following their Catholic marriage, they had an Anglican ceremony in Bath. Shock and horror ensued—Johnson himself said she had "ignominiously married" and condemned the "wickedness" of his former intimate friend. Fanny Burney, whom Hester Thrale Piozzi had encouraged and supported, was also offended by the match. (Ironically, several years later, Burney too would enter into a shocking marriage, to an impoverished French artillery officer and immigrant—also a Catholic.) Hester's eldest daughter, Queeney, almost persuaded her mother to abandon any thought of marrying Piozzi; the marriage resulted in a terrible breach between mother and daughter.
Nevertheless, Hester Piozzi was very happy in this second marriage, which lasted for twenty-five years. On 4 September, Hester and her new husband left England and traveled to Italy, where they remained until 1787, when they returned to Streatham Park. In 1795 the Piozzis left England again, this time for Wales, eventually building Brynbella on the old Salusbury estate of Bach y grieg, which Hester had inherited from her mother. The couple spent winters together in Bath, and after Piozzi's death at Brynbella in 1809, Hester Lynch Salusbury Thrale Piozzi spent the remaining years of her life primarily in Bath, where she died on 2 May 1821, at the age of eighty—she had celebrated her eightieth birthday, just in case, when she was seventy-nine years old with a lavish party attended by some 600 guests.
Hester Piozzi's years with her second husband were productive ones. A few months after the couple arrived in Italy, Hester learned of Samuel Johnson's death (13 December 1784). Drawing on the notebook in which she had preserved stories about Johnson's life and recorded his conversations (James Boswell referred to Hester's "Book of Johnsoniana" in a 1775 diary entry) and on the material in her "Thraliana" notebooks, she published Anecdotes of the Late Samuel Johnson, LL.D., during the last Twenty Years of his Life in 1786 and, two years later, a two-volume edition of Letters to and from the Late Samuel Johnson, LL.D. While Hester Piozzi's "life of Johnson" is less well known than Boswell's Life of Johnson (1791), even the venerable Encyclopedia Britannica, frequently unkind to women and their achievements, is notably kind to Piozzi's work: "Although less accurate in some details than Boswell's, her accounts show other aspects of Johnson's character, especially the more human and affectionate side of his nature."
Having long written down details of her travels, Hester published Observations and Reflections Made in the Course of a Journey Through France, Italy, and Germany in 1789. This was followed by British Synonymy; or, an Attempt at regulating the Choice of Words in familiar Conversation (1794) and Retrospection: or a Review of the most striking and important Events, Characters, Situations, and their Consequences, which the last eighteen hundred Years have presented to the View of Mankind (1801).
But perhaps the most notable of Hester Piozzi's achievements is "Thraliana." Although Hester called her notebooks a "Repository" for "Nonsense new and old," her recent biographer, Ian McIntyre, more accurately describes them as a "goldmine" filled not only with anecdotes of Samuel Johnson but with "poetry, gossip, cameo portraits of friends and enemies, religious speculation, her views on domestic politics and the French Revolution," a mix of references "from Johnson to Napoleon, from Streatham to Milan, from Latin epigrams to the price of a shirt in 1801."
Hester Thrale Piozzi was not sure what she should do with it all. At times she seemed to assume "Thraliana" would be published, worrying that something she had written might be misconstrued or "unintelligible" to its readers, at other times wondering whether her "Executors will burn the Thraliana." Sometimes she hinted in its pages that she would "destroy it" herself. In the end, she left it to her adopted son and heir, John Salusbury Piozzi, the son of Gabriel Piozzi's brother.
In 1813, Hester had written to John Piozzi, and among other worries, she addressed the future of "Thraliana." She thought perhaps it should go to her youngest daughter, Cecelia Mostyn, with whom she had remained on good terms, though she seems equally happy to have John Piozzi burn it. "[Y]ou may read it first," she writes, "only let it Never be printed! oh never, never never!" Piozzi neither burned nor published the notebooks but kept them, and they remained in the family until they were acquired by the Huntington Library (San Marino, CA) in 1922. And still the 1,620 pages of Hester Lynch Salusbury Thrale Piozzi's "Thraliana" remained unpublished. Finally, in 1942, Katharine C. Balderston's two-volume edition was published: Thraliana, The Diary of Mrs. Hester Lynch Thrale (Later Mrs. Piozzi) 1776–1809, vol. 1, 1776-1784 and vol. 2, 1776–1809 (Oxford: Clarendon Press).
Ian McIntyre's biography, Hester: The Remarkable Life of Dr. Johnson's 'Dear Mistress' (London: Constable & Robinson, 2008), is not only an excellent read but a compelling reassessment of Piozzi's life and accomplishments aside from (or in addition to) her friendship with Johnson. For an accessible analysis of Piozzi as a writer, see Marianna d' Ezio's "Hester Lynch Thrale Piozzi, British Diarist, Author, and Patron of the Arts, 1741–1821," Women Writers' Networks, 2013. For a standard reference, see Michael J. Franklin's "Piozzi [née Salusbury; other married name Thrale], Hester Lynch," Oxford Dictionary of National Biography, 2004.
Hester Piozzi's most well-known published works are now accessible online. Her 1786 Anecdotes of the late Samuel Johnson is available via Google Books. Her two-volume Letters to and from the Late Samuel Johnson, published in 1788, is also available via Google Books: vol. 1; vol. 2.
Both volumes of Balderston's 1942 edition of Thraliana are available via the Internet Archive: vol. 1; vol. 2.
For Piozzi's lesser-known works, including Observations and Reflections, British Synonymy, and Retrospection, as well as for selections from her "Thraliana," collections of her letters, unpublished journal writing and dialogues, "literary remains," and marginalia, the HathiTrust Digital Library offers a generous access.
Dictionary of National Biography (1885–1900)

PIOZZI, HESTER LYNCH (1741–1821), friend of Dr. Johnson, was born on 16 Jan. 1740–1 at Bodvel, near Pwllheli, Carnarvonshire (Hayward, i. 40, ii. 321, 359). Her father, John Salusbury, was a descendant of Richard Clough [q. v.], from whom he inherited the estate of Bachycraig, Flintshire. He married his cousin, Hester Maria, sister of Sir Robert Salusbury Cotton, and had at this time run through his property and been compelled to retire to a small cottage in a remote district. He was patronised by Lord Halifax, who, on becoming president of the board of trade (October 1748), sent him out in some capacity to Nova Scotia. His wife, with Hester, their only child, had some time before gone to live at Lleweny Hall, Denbighshire, with her brother, Sir R. S. Cotton, a childless widower, who promised to provide for his niece, but died before making his will. After Salusbury's emigration they lived first with Mrs. Salusbury's mother, Lady Cotton, at East Hyde, near Luton, Bedfordshire; and afterwards with Sir Thomas (brother of John Salusbury, judge of the admiralty court), who had married the heiress of Sir Henry Penrice, and lived at Offley Hall, Hertfordshire. Hester was a clever and lively girl. She became a daring horsewoman, and learnt Latin—apparently not Greek (Hayward, i. 49, 114), though a knowledge both of Greek and Hebrew is attributed to her by Mangin—and modern languages from Dr. Collier, a civilian, to whom she became much attached. She wrote papers before she was fifteen in the 'St. James's Chronicle.' Her father, after fighting duels and 'behaving perversely' in Nova Scotia, had returned to England, and went to Ireland with Lord Halifax, who was made lord lieutenant in 1761. During his absence, Sir Thomas proposed a marriage between his niece and Henry Thrale. Thrale was the son of a native of Offley who had become a rich brewer, and had brought up his son and daughters 'quite in a high style.' Neither of the young people cared for the other, but the uncle's promises to make a settlement upon his niece on condition of the marriage decided Thrale and Mrs. Salusbury. Hester appealed to her father upon his return. He quarrelled with his brother, and took his wife and child to London. There he died suddenly in December 1762. His daughter seems to imply that his death was hastened by irritation at her proposed marriage to Thrale, and at Sir Thomas's own intention to marry a second wife. Her father being out of the way, Miss Salusbury was married to Thrale on 11 Oct. 1763. She declares that Thrale only took her because other ladies to whom he had proposed refused to live in the borough (ib. ii. 24). Thrale had also a house at Streatham Park (destroyed in 1863), and kept a pack of hounds and a hunting box near Croydon. Mrs. Thrale complains that she was not allowed to ride or to manage the household, and was thus driven to amuse herself with literature and her children. Thrale was a solid, respectable man, who apparently behaved kindly to his wife (see her 'character' of him, ib. ii. 188); but he gave her some real cause for jealousy. The famous intimacy with Johnson began at the end of 1764, and in 1765 (see Birkbeck Hill in Boswell's Johnson, i. 490, 520–2) Johnson was almost domesticated at Streatham. He accompanied the Thrales to Wales in 1774, and to France in 1775. Thrale was elected for Southwark in December 1765, and continued to represent the borough till the election of 1780, when he was defeated. Mrs. Thrale took part in writing addresses and canvassing the electors. In 1772 Thrale was brought into great difficulties by expenses incurred to carry out a scheme, suggested by a quack, for making beer 'without malt or hops' (Hayward, ii. 26). Mrs. Thrale raised money from her mother and other friends; and says that, although their debts then amounted to 130,000l., they were all paid off in nine years. She afterwards took an active part in the business, besides managing her estate in Wales (ib. i. 70). On 21 Feb. 1780 Thrale had an attack of apoplexy, which permanently weakened his mind. Mrs. Thrale had also been much vexed for some time by his flirtations with 'Sophy Streatfield,' a pretty widow (ib. i. 110), who is also described by Miss Burney and who appears to have made many other conquests. Thrale's incapacity, his extravagance, and over-indulgence in eating caused his wife much anxiety, and on 4 April 1781 he died of a second attack. The brewery was soon afterwards sold to the Barclays for 135,000l. Thrale, she says, had left 20,000l. to each of his five daughters, and she estimated her own income at 3,000l. a year, which, however, turned out to be considerably above the mark (ib. i. 168). She had had twelve children, of whom Henry, the only son, died on 23 March 1776. Her eldest daughter, Hester Maria [see Elphinstone, Hester Maria], afterwards became Viscountess Keith. Another became Mrs. Hoare. The youngest surviving daughter, Cecilia, was afterwards Mrs. Mostyn. Another daughter appears to have remained unmarried, and a fifth died in infancy in 1783.

Mrs. Thrale had made the acquaintance of Gabriel Piozzi, an Italian musician of much talent, in 1780. He was her senior by six months (Hayward, i. 174). She had taken a fancy to him, which now ripened into passion. By the end of 1781 they were very intimate, and in August 1782, finding herself involved in a lawsuit with Lady Salusbury and straitened for money, she resolved to go to see Italy with Piozzi as guide, and to economise (ib. i. 166). She began to complain of Johnson. His approval of her plan of travel showed, she thought, want of desire for her company, and she no doubt foresaw that he would object to the marriage with Piozzi, which she was beginning to contemplate. Her eldest daughter also strongly disapproved. She left Streatham in October 1782 and went to Brighton, whither Johnson followed her. She returned to London, and, after a violent scene with her eldest daughter, resolved to give up Piozzi. She told him in January that they must part (ib. i. 220). She retired to Bath, and Piozzi left for Italy (8 May 1783) at the same time. In the 'Anecdotes' she attributes her retreat to Bath exclusively to the desire to escape from Johnson's tyranny; but her diary (ib. i. 169, 196) shows that this was at most a very subordinate motive [see under Johnson, Samuel, 1709–1784]. Her daughters, seeing that her health was affected, finally consented to the recall of Piozzi. She was married by a catholic priest in London on 23 July, and at St. James's, Bath, according to the Anglican ritual, on 25 July 1784. A match with an Italian Roman catholic musician was naturally regarded with excessive disapproval by the society of that time. It involved a separation from her eldest daughter, of whom she speaks with coldness and resentment (Hayward, i. 305, ii. 69). They appear to have been afterwards on civil but distant terms. Cecilia, the youngest, stayed with her.

Upon her marriage she went to Italy with her husband; spent the winter at Milan, and in the next summer was at Florence, where she made friends with Robert Merry [q. v.] and the 'Della Cruscans.' She contributed to the 'Florence Miscellany,' ridiculed in Gifford's 'Baviad' and 'Mæviad,' and wrote the preface. She also wrote there her 'Anecdotes,' giving a very lively picture of Johnson, though it is partly coloured by a desire to defend her own conduct. It sold well, though it excited a good deal of ridicule, as indicated by Peter Pindar's 'Bozzy and Piozzi.' She returned to England in March 1787, and was bitterly attacked by Baretti [q. v.], who had lived for three years in her house as tutor to Miss Thrale, in the 'European Magazine.' He is also supposed by Mr. Hayward to have been the author of 'The Sentimental Moth, a Comedy in Five Acts: the Legacy of an old Friend … to Mrs. Hester Lynch Thrale,' &c. (1789). She appears, however, to have been well received in society, and settled at Streatham Park, upon which she and her husband spent 2,000l. She published Johnson's letters, for which, Boswell says, she had 500l., in 1788, and some other books (see below), showing an overestimate of her own accomplishments. At the end of 1795 she left Streatham for Wales. She lived there with her husband, who repaired Bachycraig, but afterwards built a villa, called Brynhella, in the valley of the Clwyd. He died there of gout in March 1809. She adopted a nephew of his, John Piozzi, to whom she gave the Welsh property on his marriage to a Miss Pemberton. Piozzi had saved 6,000l., and left everything to his wife (Hayward, ii. 75). They spent most of their winters at Bath, and after his death she seems to have generally lived there. When nearly eighty she took a great fancy to a handsome young actor, William Augustus Conway [q. v.], and it was reported that she proposed to marry him. Her 'love-letters' to him, written in 1819 and published in 1843, are of doubtful authenticity, but in any case only show that she became silly in her old age. On 27 Jan. 1820 she celebrated her eightieth (or seventy-ninth?) birthday by a ball to six or seven hundred people at Bath, and led off the dances with her adopted son. She died on 2 May 1821, leaving everything to this son, who, having taken her maiden name and been knighted when sheriff of Flintshire, was now Sir John Piozzi Salusbury.

Mrs. Piozzi was a very clever woman; well read in English literature, though her knowledge of other subjects was apparently superficial. Her early experience had given her rather cynical views of life, and she seems to have been rather hard and masculine in character; but she also showed a masculine courage and energy in various embarrassments. Her love of Piozzi, which was both warm and permanent, is the most amiable feature of her character. She cast off her daughters as decidedly as she did Dr. Johnson; but it is impossible not to admire her vivacity and independence. She was short and plump, and if not regularly pretty, had an interesting face. An engraving from a miniature by Roche, taken when she was seventy-seven, is prefixed to Hayward's first volume, and an engraving of Hogarth's, 'Lady's Last Stake,' to the second. She 'sate for this,' as she says, when under fourteen (ib. ii. 309). If so, Hogarth must have idealised the picture considerably; but it appears to have been painted in 1759 [see under Hogarth, William].

Mrs. Piozzi's works are: 1. 'Anecdotes of the late Samuel Johnson, during the last twenty years of his Life,' 1786. 2. 'Letters to and from the late Samuel Johnson, LL.D.,' 1788. 3. 'Observations and Reflections made in the course of a Journey through France, Italy, and Germany,' 2 vols. 8vo, 1789. 4. 'British Synonymy,' 1794 (a book with some amusing anecdotes, but otherwise worthless). 5. 'Retrospection: or a Review of the most striking and important Events, Characters, Situations, and their Consequences which the last eighteen hundred years have presented to the Views of Mankind,' 2 vols. 4to, 1801. She wrote many light verses, most of which are given in the second volume of Hayward. The best known, the 'Three Warnings,' first appeared in the 'Miscellanies' published by Johnson's friend, Mrs. Williams, in 1766.

[Autobiography, Letters, and Literary Remains of Mrs. Piozzi … edited … by A. Hayward, Q.C., 1861, 2 vols. 8vo; 2nd edit. enlarged (and cited above) in same year. This is founded partly upon 'Thraliana,' a notebook kept by her from 1776 to 1809; with autobiographical fragments, marginal notes on books, and some correspondence. 'Piozziana; or Recollections of the late Mrs. Piozzi, with Remarks. By a Friend' (the Rev. E. Mangin), 1833, describes her last years at Bath. Her own publications, Boswell's Johnson, and Mme. d'Arblay's Diaries and Memoirs of Dr. Burney, also give many references.]

L. S.
Encyclopædia Britannica 11th edition (1911)

PIOZZI, HESTER LYNCH (1741–1821), English writer, well known as the friend (Mrs Thrale) of Samuel Johnson (q v), was born on the 16th of January 1741, her father being John Salusbury of Bobbel, Carnarvonsh1re. Her maternal uncle, Sir Robert Salusbury Cotton, contemplated providing for his niece, but he died without having carried out his intention. She and her mother lived in London, and amongst her childish recollections were meetings with James Quin and David Garrick She received a solid education, for she was acquainted with Latin as well as with French, Italian and Spanish. In 1763 she was married to Henry Thrale, a rich Southwark brewer, whose house was at Streatham on the south-east corner of Tooting Bec Common. There was very little sympathy between the lively girl and Thrale, who was thirteen years her senior, but gradually she drew round her a distinguished circle of friends. She was introduced to Samuel Johnson in 1765 by Arthur Murphy, who was an old friend of her husband's. In 1766 Johnson paid a long visit to Streathan, and from that time was more or less domesticated with the Thrales. In time it became his custom to spend the middle of the week at Streatham, devoting the remaining days to his own heterogeneous "family." He was genuinely attached to his hostess, and thoroughly appreciated the luxury in which the Thrales lived. They were able to soften some of his eccentricities, and they certainly made him happy. He travelled with them in Wales in 1774, and in France in 1775. Dr Burney gave lessons to one of the Miss Thrales, and in 1778 he brought his daughter Fanny to Streatham. She became a warm friend of Mrs Thrale, and has left an account of the Streatham household in her diary. This friendship was by no means always unclouded. Fanny Burney was very sensitive, and sometimes thought that Mrs Thrale gave herself airs of patronage. Meanwhile, in 1772, Thrale's business was seriously injured, and he was threatened with bankruptcy. The situation was saved by his wife's efforts, and in the next year Thrale travelled, leaving her in charge of his affairs. He was twice returned for the borough of Southwark, chiefly through her efforts. In 1781 Mr Thrale died, and Dr Johnson helped the widow with her business arrangements, advising her to keep on the brewery, until she "cured his honest heart of its incipient passion for trade, by letting him into some, and only some, of its mysteries." The brewery was finally sold for £155,000. Mrs Thrale had met Gabriele Piozai, an Italian musician, in 1780. Johnson was now in failing health, and soon began to feel himself slighted. His suspicions were definitely aroused when she laid aside her mourning for Thrale in 1782, and the Streatham house was sold. In 1783 her engagement to Piozzi was announced. The objections of her daughters and her friends induced her to break it off for a time, but it was soon resumed, and in 1784 they were married. Johnson told Miss Burney that he drove the memory of Mrs Thrale from his mind, burning every letter of hers on which he could lay his hand. The Piozzis presently left England to travel in Italy. At Florence they fell in with Robert Merry and the other "Della Cruscan" writers ridiculed by William Gifford in his Maevlad and Baviad, and she contributed some verses to their Florence Miscellany in 1785. In 1786 she published Anecdotes of the late Samuel Johnson, during the last twenty years of his life, which was severely criticized by Boswell. She was ridiculed by "Peter Pindar" in Bozzy and Piozzi; or the British Biographers, A Town Eclogue (1786). But though Miss Burney and some others held aloof, the Piozzis found plenty of friends when they returned to London in 1787. Piozzi died at Brynbella, a villa he had built on his wife's Carnarvonshire estate in 1809, and Mrs Piozzi gave up her Welsh property to her husband's son, and spent most of the rest of her life at Bath and Clifton. When long past seventy she took a fancy to William Augustus Conway, the actor. She retained her vivacity to the last, celebrating her 80th birthday by a ball to six or seven hundred people at Bath. She died at Clifton on the 2nd of May 1821.

From 1776 to 1809 she kept a note-book which she called "Thraliana." Her well-known poem of the "Three Warnings" is to be found in many popular collections. Letters to and from the late Samuel Johnson appeared in 1788; Observations and Reflections made in the course of a Journey, through France, Italy and Germany, in 1789, and in 1801 she published Retrospection, or a review of the most striking and important events, characters, and situations ... which the last eighteen hundred years have presented to the view of mankind (1801).

See Letters and Literary Remains of Mrs Piozzi (Thrale), edited with notes and an Introductory Account of her Life and Writings by A. Hayward (1861); Piozziana; or Recollections of the late Mrs Piozzi by a Friend (1833), the anonymous friend being Edward Mangin (1772–1852), L. B. Seele, Mrs Thrale, afterwards Mrs Piozzi . . . (1891), and G. Birkbeck Hill, Johnsonian Miscellanies (1897). Also works noted in bibliography to Johnson, Samuel.