William Boyce

(

1711

–

1779

)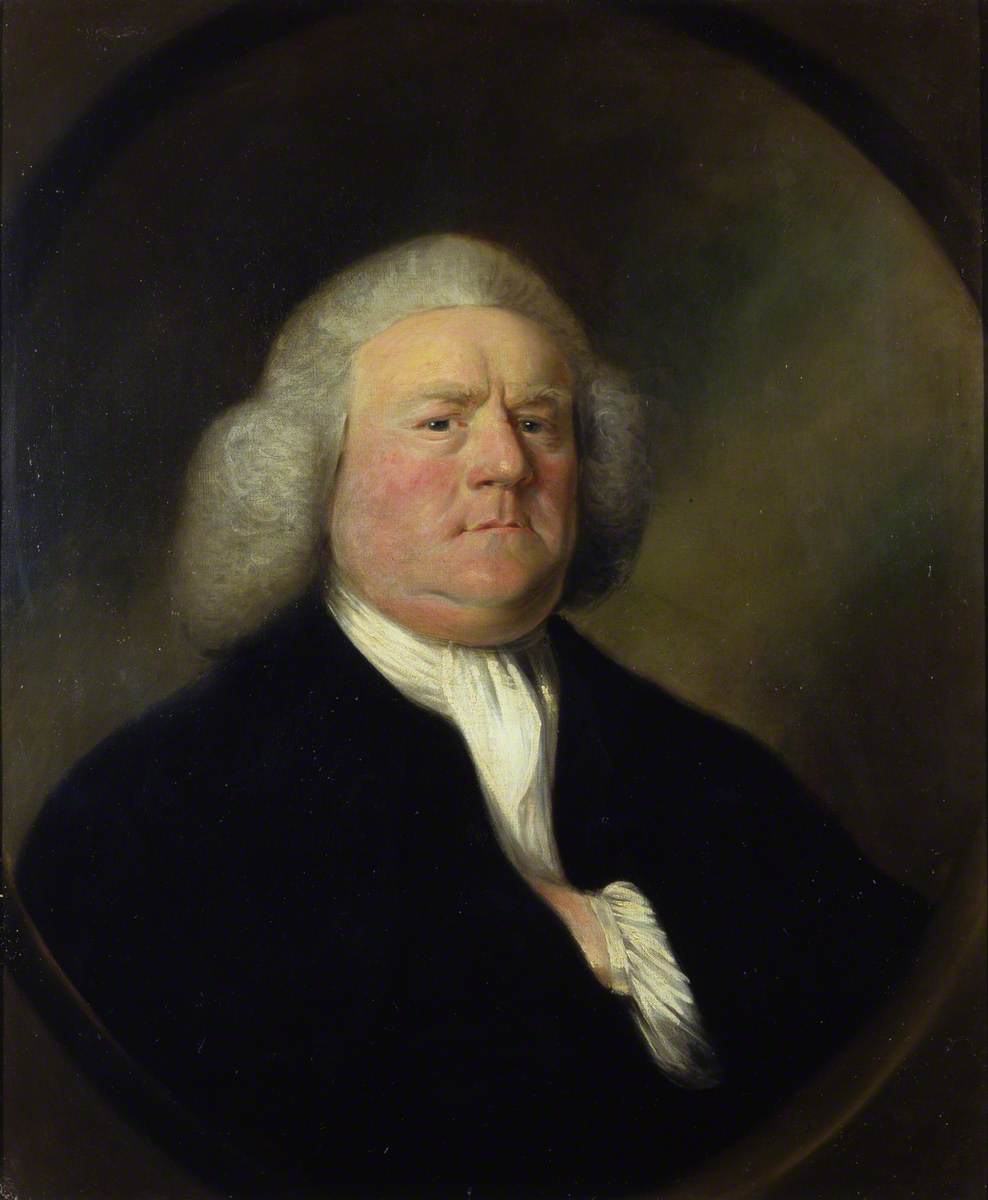 Paul F. Rice, Memorial University of Newfoundland
August 2022
Boyce was born in London on Maiden Lane, near St. Paul's Cathedral. He showed early musical promise and was admitted to the music school attached to the cathedral around 1719. Boyce's voice was of sufficient quality to permit entrance into the cathedral choir where he fell under the influence of the organist Maurice Greene (1696–1755). After Boyce's voice changed, he became Greene's articled pupil for the next seven years. During the 1730s, Boyce also studied in London with Johann Christoph Pepusch (1667–1752) who encouraged his interest in music theory and the music of the Renaissance composers.
Boyce and Thomas Arne (1710–78) were near contemporaries in age, and both were born in London. It is inevitable that history has compared their careers and compositions, especially since the time of their respective births was also the period when George Friderick Handel made his first visit to London. As Charles Cudworth has observed:
Thomas Augustine Arne and William Boyce, if not exactly kindred spirits, were at least closely linked in the physical circumstances of their lives. Both were Londoners, and both belonged to what the late Gerald Finzi used to the call 'The Generation of 1710'. That year was a momentous one for English music, for it was then that Handel first arrived in England, and from then on, for the next half-century at least, whatever was done, musically speaking, in Britain must perforce be measured against the might of Handel's genius. No English musician could escape his influence, although some, like Arne, might rebel, and others, like Boyce, acquiesce and yet retain their own individuality.—"Boyce and Arne: 'The Generation of 1710'," Music and Letters 41, no. 2 (1960)
The career paths of Arne and Boyce were as different as their personalities. As Roger Fiske has observed, "Unlike Arne, Boyce was a popular man, and almost alone among English composers of his generation he showed no jealousy of Handel"―(English Theatre Music in the Eighteenth Century, 1986). Furthermore, unlike the Catholic Arne, Boyce was not prohibited from holding church or court appointments; his career unfolded accordingly.
Although he suffered hearing loss from an early age, Boyce held organist posts in London churches during his professional career, with his tenure at All Hallows-the-Great from 1749 to 1764 being the most prestigious. Sadly, he was forced to give up such activities in 1768 because of his growing infirmity. Boyce received his first royal appointment as a Composer to the Chapel Royal in 1736. In addition to composing anthems and services, he also shared duties as organist. On the death of Maurice Green in 1755, Boyce was awarded the title of Master of the King's Music. His duties were then to supervise the king's band, to compose suitable music for funerals, weddings and coronations, and compose odes for royal birthdays and each New Year. These duties were prestigious, although the texts of his forty court odes were often banal. If the odes are largely forgotten, Boyce showed ingenuity when he salvaged many of their overtures and published them in 1760 and 1770. These overtures and symphonies remain popular in the modern era and have been much recorded. Boyce composed much music for the Anglican Church, including Te Deum settings, Services, and many anthems. Some of this music can be heard on YouTube.
A mark of Boyce's prominence at court is seen in the receipt of a royal licence in 1745 to print and publish his own music. In an era where there were no copyright laws, this licence gave him some protection against unauthorized publications. Boyce was called to compose the music for the various ceremonies attendant to the accession of George III to the throne and the king's subsequent marriage to Princess Charlotte of Mecklenburgh in 1761. Boyce refused to set the traditional text "Zadok the Priest," however, for the coronation ceremonies, claiming that Handel's setting was unsurpassable. As a result, Handel's setting has been used at all subsequent coronation ceremonies.
Compared to Arne, Boyce wrote comparatively little for the stage, although David Garrick asked Boyce for music on several occasions between 1740 and 1759. As Charles Burney remarked, "Mr. Arne and Mr. Boyce were frequently concurrents at the theatres and in each other's way, particularly at Drury-lane" (A General History of Music, Vol. 4, 1789). One of Boyce's works, The Chaplet (2 December 1749), proved to be a runaway success at Drury Lane where it enjoyed over one hundred performances in its first eight seasons. In 1750, the rival theatres at Covent Garden and Drury Lane opened new productions of Shakespeare's Romeo and Juliet on the same evening. Covent Garden was quick to steal a march on the Drury Lane theatre when the former advertised the following in the General Advertiser (27 September 1750):
An Additional Scene will be introduced, representing
The FUNERAL PROCESSION of JULIET
Which will be accompanied with a solemn DIRGE, never performed
before and set to Music by Mr. ARNE.
The added scene was meant to portray Juliet's supposed dead body being carried across the stage in state. Arne's music was arresting and caught the attention of London audiences.
David Garrick at Drury Lane was jealous of his rival theatre's successful innovation and he commissioned Boyce to write a similar dirge for that theatre's production of the Shakespeare play. By the third performance, the General Advertiser (1 October 1750) was advertising the following:
With the Additional Scene, representing
The FUNERAL PROCESSION
To the MONUMENT of the CAPULETS.
The Vocal Parts by Mr. Beard, Mr. Reinhold, Mr. Wilder, Master
Mattocks, Mrs Clive, Miss Norris, Mrs. Mathews, &c
The Musick compos'd by Doctor BOYCE.
Fortunately, the two composers never crossed swords in such a public manner in their subsequent careers.
Boyce and Arne might be viewed as the opposing sides of a coin representing the profession of music in eighteenth-century London. The one enjoyed the privileges of royal protection and unfettered entrance into various musical activities, while the other struggled to rise through the ranks and make a name for himself. While Boyce excelled in ceremonial music and that which required grace and elegance, Arne often explored darker emotions, strong musical contrasts and a more varied view of the human experience. Still, Boyce's music was much appreciated during his day, even if his style was seen as old fashioned by the end of his life. Charles Burney summed up Boyce's merits with the following:
There is an original and sterling merit in his productions, founded as much on the study of our own old masters, as on the best models of other countries, that gives to all his works a peculiar stamp and character of his own, for strength, clearness, and facility, without any mixture of styles, or extraneous and heterogeneous ornaments.—A General History of Music, Vol. 3, 1789
Boyce was highly respected by his peers. He was awarded a Doctorate of Music by the University of Cambridge in 1749. Beginning in 1737, he led the Three Choirs Festival for the next twenty years, an organization of longstanding importance in musical Britain. His interest in earlier music is seen in his editions of music by Orlando Gibbons, William Byrd and Henry Purcell, as well as his completion of a massive three-volume anthology of Cathedral Music (1760–73), left incomplete by Maurice Greene. Charles Burney wrote that "there was no professor who I was ever acquainted with that I love, honoured, and respected more" (A General History of Music, Vol. 4, 1789). A measure of this respect can be seen in the burial service organized in his honour at St. Paul's Cathedral on February 15, 1779. The service, attended by a large number of London musicians and parishioners, included his anthem If we believe that Jesus died. The funeral was considered to be an event of considerable significance and featured a choir made up of the singers from the choirs of St. Paul's, Westminster Abbey, and the Chapel Royal. Boyce was buried in the crypt of St. Paul's.
Dictionary of National Biography (1885–1900)

BOYCE, WILLIAM (1710–1779), Mus. Doc., was born at Joiners' Hall, Upper Thames Street, in 1710. His father is variously stated to have been a 'housekeeper,' a joiner and cabinet maker, a man of considerable property, and the beadle of the Joiners' Company. Boyce was educated at St. Paul's School, and was a chorister of St. Paul's Cathedral under Charles King. When his voice broke he was apprenticed to Dr. Maurice Greene, with whom he always remained on close terms of friendship. In 1734 he competed for the post of organist at St. Michael's, Cornhill, the other candidates being Froud, Worgan, Young, and Kelway. The appointment was given to the last-named musician, and Boyce became organist of Oxford Chapel (now St. Peter's), Vere Street, where he succeeded Joseph Centlivre. At this time he studied theory under Dr. Pepusch, and was much in demand as a teacher of the harpsichord, particularly in ladies' schools. In 1736 Kelway left St. Michael's, and succeeded Weldon at St. Martin's-in-the-Fields; whereupon Boyce resigned his post at Oxford Chapel, and took Kelway's place in the city, which he continued to occupy until 5 April 1768. On 21 June of the same year he was sworn in as composer to the Chapel Royal, the post of organist at the same time being conferred upon Jonathan Martin, while Boyce undertook to fulfil the third part of the duty of organist, receiving in return one-third part of the money allotted to Martin as 'travelling expenses.' In 1734 Boyce's setting of 'Peleus and Thetis,' a masque, written by Lord Lansdowne, had been performed by the Philharmonic Society, and in 1736 the Apollo Society produced an oratorio by him, 'David's Lamentation over Saul and Jonathan,' the words of which were by John Lockman. In 1737 he was appointed conductor of the Three Choirs festivals, a post he held for many years. About the same time he became a member of the Royal Society of Musicians, and a little later he composed music to two odes for St. Cecilia's day, written respectively by Lockman and an under-master of Westminster School named Vidal. In 1740 he composed the Pythian Ode, 'Gentle lyre, begin the strain,' and in 1743 produced his best work, the serenata of 'Solomon,' the book of which was compiled from the Song of Solomon by Edward Moore, the author of 'Fables for the Female Sex.' Shortly afterwards he published a set of 'Twelve Sonatas for Two Violins, with a Bass for the Violoncello or Harpsichord,' which long remained very popular as chamber music; and in 1745 he began the publication of his miscellaneous songs and cantatas, which, under the name of 'Lyra Britannica,' ultimately extended to six volumes. The year 1749 saw Boyce at the height of his activity. On 2 Jan. the masque of 'Lethe' was revived at Drury Lane, with Beard as Mercury, for whom Boyce wrote new songs. On 1 July his setting of Mason's ode on the installation of the Duke of Newcastle as chancellor of the university of Cambridge was performed in the senate house, and on the following day an anthem by him, with orchestral accompaniments, was performed at Great St. Mary's as an exercise for the degree of Mus. Doc., which the university had conferred on him. On 2 Dec. 'The Chaplet,' an operetta by Moses Mendez, with music by Boyce, was produced at Drury Lane, the principal parts in which were filled by Beard, Mrs. Clive, and Master Mattocks, on which occasion Mattocks made his first appearance on the stage. In the same year the parishioners of Allhallows the Great and Less, Thames Street, where Boyce was born, requested him to become organist of the parish church; he held this post until 18 May 1769, when he was dismissed, probably because his numerous occupations prevented him from attending properly to the duties of the post. In 1750 Garrick revived Dryden's 'Secular Masque' (30 Oct.), which had been originally produced with 'The Pilgrim' on 25 March 1700. For this Boyce had already written music, which had been performed at 'Hickford's Room, or the Castle Concert;' this was now heard at Drury Lane, with Beard as Momus. In the following year (19 Nov. 1751) another small work by Mendez and Boyce was brought out at Drury Lane; this was 'The Shepherd's Lottery,' in which Beard and Mrs. Clive sang the principal parts. About this time he moved from his father's house in the city to Quality Court, Chancery Lane, where he lived with his wife until his removal to Kensington in 1758. In 1755, on the death of Dr. Greene, Boyce was nominated by the Duke of Grafton to be master of the king's band of musicians. He was not sworn in until June 1757, but he fulfilled the duties of the post from the death of Greene. In this capacity he composed a large number of odes for the king's birthday and new year's day. A complete collection of these from the year 1755 to 1779 is preserved in the Music School Collection at Oxford, besides a queen's ode (performed 6 June 1763), and two settings of 'The king shall rejoice,' the earliest of which was performed at the wedding of George III (8 Sept. 1761), and the other at St. Paul's Cathedral (22 April 1766). As conductor of the festivals of the Sons of the Clergy, another post to which he succeeded on Greene's death, Boyce wrote additional accompaniments to Purcell's great Te Deum and Jubilate, besides composing specially for these occasions two of his finest anthems. In 1758 John Travers, the organist of the Chapel Royal, died, and on 23 June Boyce was admitted to this post. In the same year he wrote music for Home's tragedy of 'Agis,' which was produced at Drury Lane 21 Feb. Boyce also wrote at different times music for Shakespeare's 'Tempest,' 'Cymbeline,' and 'Winter's Tale,' and a dirge for 'Romeo and Juliet.' His last work for the theatre was the music to Garrick's pantomime, 'Harlequin's Invasion,' which was produced at Drury Lane 31 Dec. 1759. Boyce's most important contribution to this work was the fine song 'Hearts of Oak,' a composition which almost rivals 'Rule Britannia' in vigour and popularity. This song was originally sung by Champness; it was published in 'Thalia, a Collection of six favourite Songs (never before Publish'd) which have been occasionally Introduced in several Dramatic Performances at the Theatre Royal in Drury Lane; the words by David Garrick, Esq., and the musick compos'd by Dr. Boyce, Dr. Arne, Mr. Smith, Mr. M. Arne, Mr. Battishill, and Mr. Barthelemon.' During the whole of his life Boyce suffered much from deafness; even before his articles had expired this infirmity had made itself very apparent, and by the year 1758 it had increased to such an extent that he resolved to give up teaching and to retire to Kensington, and devote himself to editing the collection of church music which bears his name. The idea of publishing a work of this description occurred simultaneously to Dr. Alcock and Dr. Greene about the year 1735. The latter issued a prospectus on the subject, whereupon Dr. Alcock gave up the plan, and presented Greene with his collections; but he did not live to begin the work in earnest, which thus devolved, by Greene's wishes, upon Boyce. The 'Cathedral Music,' the first volume of which was published in 1760, has been often reprinted, and, although at the time of its publication it brought but little beyond honour to its editor, it still remains a most valuable and important work, and a monument of Boyce's erudition and good judgment. Besides the preparation of this great work, in his latter years Boyce revised most of his earlier compositions, and published a selection of the overtures to his new-year and birthday odes, under the title of 'Eight Symphonys.' Most of his anthems were not published until after his death, when two volumes were brought out by his widow and by Dr. Philip Hayes, besides a burial service and a collection of voluntaries for the organ or harpsichord. He died of gout at Kensington 7 Feb. 1779, and was buried under the dome of St. Paul's on the 16th of the same month. His will, dated 24 June 1775, proved by his wife and daughter 20 Feb. 1779, directs that he should not be buried until seven days and seven nights after his death. By his wife Hannah he had two children: (1) Elizabeth, who was born 29 April 1749; and (2) William, born 25 March 1764. The latter, after his father's death, entered at an Oxford college, but was sent down without taking a degree. He attained some distinction as a double-bass player, and died about 1823. Two oil paintings of Boyce are known to exist. One, a full length, is in the Music School Collection at Oxford; another, a small three-quarter length of him, seated, by Sir Joshua Reynolds, is now (1886) in the possession of Mr. John Rendall. There is an engraved portrait of him, 'drawn from the life, and engraved by F. K. Sherwin,' prefixed to the second edition of the 'Cathedral Music' (1788). The same portrait was prefixed to the 'Collection of Anthems,' published by Mrs. Boyce in 1790. A vignette of him, by Drayton, after R. Smirke (together with Blow, Arne, Purcell, and Croft), was published in the 'Historic Gallery,' September 1801.

Personally, Boyce was a most amiable and estimable man. Burney, twenty-four years after his death, wrote of him as follows: 'There was no professor whom I was ever acquainted with that I loved, honoured, and respected more,' and he seems to have been a universal favourite with all with whom he came in contact. Musically, he occupies a distinct position amongst his contemporaries. Like all the English composers of his day, it was his ill fortune to be overshadowed by the giant form of Handel, and yet, in spite of this, he managed to preserve an individuality of his own. He may best be described as the Arne. of English church music; for the same characteristics of grace and refinement are to be found in his music as in that of his contemporary, and, like Arne, he had a reserve of power which was all the more effective for not being too often brought into play.

[Grove's Dict. of Music, i. 267; Brit. Mus. Cat.; Burney in Rees's Encyclopaedia, v.; the Georgian Era, iv. 243; Life of Boyce prefixed to Cathedral Music, vol. i. (Warren's edition, 1849); Busby's Concert Room Anecdotes, iii. 166; Gent. Mag. xlix. 103; Genest's History of the Stage, iv.; Probate Registers (42 Warburton); manuscripts in the possession of Mr. T. W. Taphouse; manuscripts in the Music School Collection, Oxford; Appendix to Bemrose's Choir Chant Book: Cheque Book of the Chapel Royal.]

W. B. S.
Encyclopædia Britannica 11th edition (1911)

BOYCE, WILLIAM (1710–1779), English musical composer, the son of a cabinet-maker, was born in London on the 7th of February 1710. As a chorister in St Paul's he received his early musical education from Charles King and Dr Maurice Greene, and he afterwards studied the theory of music under Dr Pepusch. In 1734, having become organist of Oxford chapel, Vere Street, Cavendish Square, he set Lord Lansdowne's masque of Peleus and Thetis to music. In 1736 he left Oxford chapel and was appointed organist of St Michael's church, Cornhill, and in the same year he became composer to the chapel royal, and wrote the music for John Lockman's oratorio David's Lamentation over Saul and Jonathan. In 1737 he was appointed to conduct the meetings of the three choirs of Gloucester, Worcester and Hereford. In 1743 was written the serenata Solomon, in which occurs the favourite song "Softly rise, O southern breeze." In 1749 he received the degree of doctor of music from the university of Cambridge, as an acknowledgment of the merit of his setting of the ode performed at the installation of Henry Pelham, duke of Newcastle, as chancellor; and in this year he became organist of All-hallows the Great and Less, Thames Street. A musical setting to The Chaplet, an entertainment by Moses Mendez, was Boyce's most successful achievement in this year. In 1750 he wrote songs for Dryden's Secular Masque and in 1751 set another piece (The Shepherd's Lottery) by Mendez. He became master of the king's band in succession to Greene in 1757, and in 1758 he was appointed principal organist to the chapel royal. As an ecclesiastical composer Boyce ranks among the best representatives of the English school. His two church services and his anthems, of which the best specimens are By the Waters of Babylon and O, Where shall Wisdom be found, are frequently performed. It should also be remembered that he wrote additional accompaniments and choruses for Purcell's Te Deum and Jubilate, which the earlier musician had composed for the St Cecilia's day of 1694. Boyce did this in his capacity of conductor at the annual festivals of the Sons of the Clergy at St Paul's cathedral, an office which he had taken in succession to Greene. His twelve trios for two violins and a bass were long popular. One of his most valuable services to musical art was his publication in three volumes quarto of a work on Cathedral Music. The collection had been begun by Greene, but it was mainly the work of Boyce. The first volume appeared in 1760 and the last in 1778. On the 7th of February 1779 Boyce died from an attack of gout. He was buried under the dome of St Paul's cathedral.