Margaret Caroline Rudd

(

1745?

–

1798?

)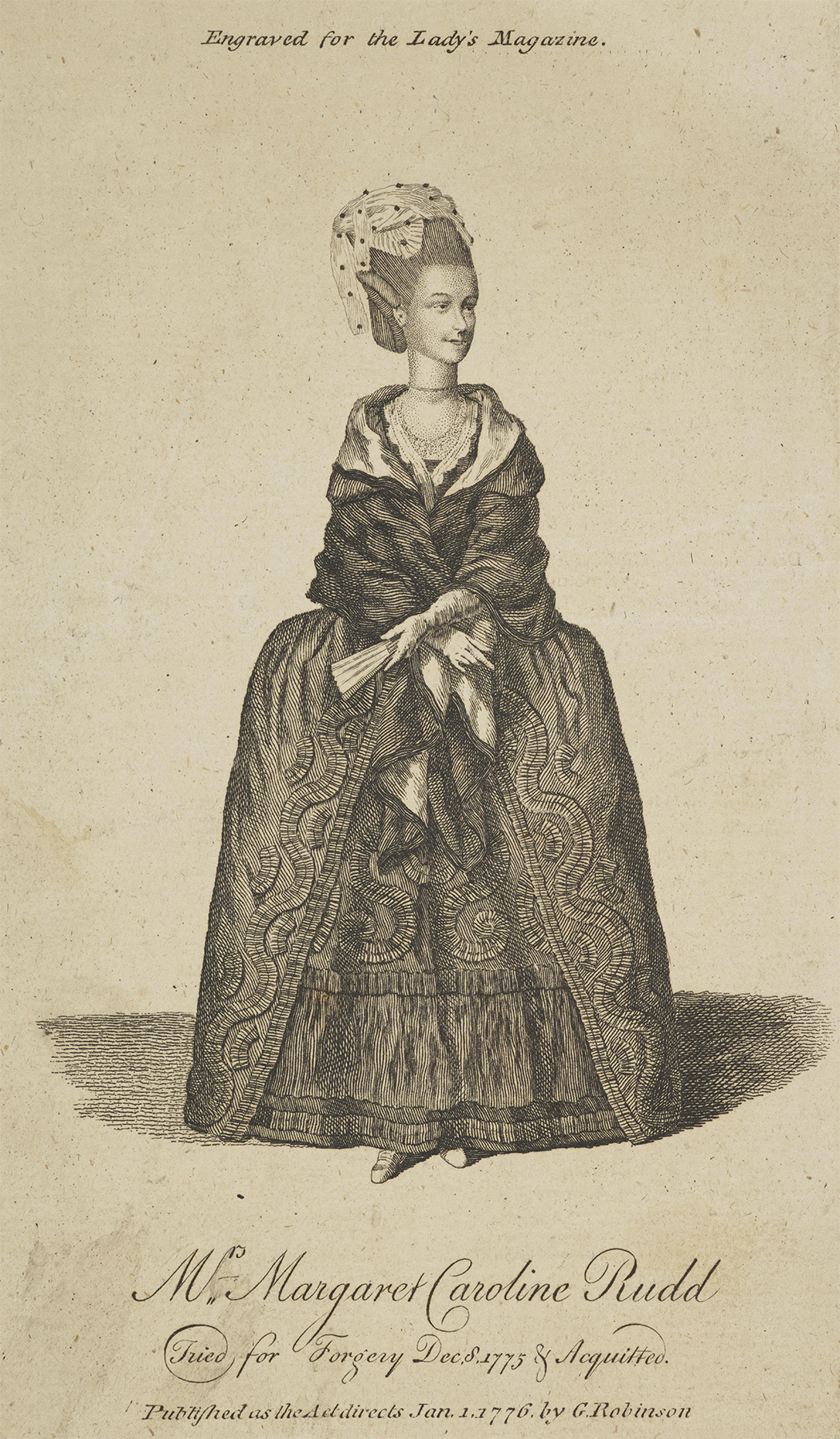 Pat Rogers, University of South Florida
March 2023
Caroline Rudd (1745/46–1798/1800)
Londoners had plenty to occupy their minds as the year 1776 began. Apart from the lead-up to the Declaration of American Independence, they would meet with many notable events in the coming months, among them the departure of James Cook on his final voyage to the Pacific, and they would become aware of the death of notable individuals such as David Hume and the clockmaker John Harrison. If their interests were political, they could have sought out a copy of Thomas Paine's Common Sense, which had caused a sensation when issued in Philadelphia on 10 January, and which would soon to be reissued in London and Edinburgh. Those of a literary bent could also look forward to the appearance of the first instalment of Edward Gibbon's Decline and Fall in February and Adam Smith's Wealth of Nations in March. Both were issued by William Strahan, off Shoe Lane, and Thomas Cadell in the Strand, who were just then in the throes of bringing out the first collection of Samuel Johnson's political tracts, as well as reprinting the sermons of Mr. Yorick, that is, Laurence Sterne. In the same twelve months came further offerings from the London book trade written by the historians of music Charles Burney and Sir John Hawkins, together with contributions by James Beattie, Jeremy Bentham, Hannah More and the recently deceased Oliver Goldsmith. Theatregoers had the chance to witness the farewell performance of David Garrick in June. At the end of May, art lovers could visit an exhibition at the Royal Academy, then occupying cramped quarters in Pall Mall, and survey new portraits by Sir Joshua Reynolds of the Duchess of Devonshire and the Tahitian Omai among others.
Yet, into this throng of high cultural practitioners had stepped a woman who managed to divert attention from such lofty concerns for several months. It can be said without exaggeration that nothing aroused more public commentary or excited more private exchanges over this period than the scandalous story of a notorious female adventurer. The clamour reached its full intensity at the start of 1776 when a controversial execution of twin brothers took place on 17 January. All London was agog, and further afield in Edinburgh James Boswell could not sleep when he heard the news. These two men had been condemned to death after a succession of court cases that dominated the news over the previous summer. Their names were Robert and Daniel Perreau, and they had been convicted of forgery. Until now they had passed in the role of outwardly prosperous members of society, one as an apothecary and one as a businessman, but the skeletons that emerged from the family closet during the trials showed that they were treading a perilous financial line. Yet, what sank their reputation ultimately, and made them seem guilty in the eyes of the public, was not their unwise speculations or their spendthrift way of life (that of Daniel especially). It was rather their association with the previously obscure demirep Margaret Caroline Rudd, briefly the most notorious woman in the land.
Her origins were as murky as they needed to be for someone living on her wits. She came from a small town in County Armagh, Northern Ireland, the daughter of Patrick Youngson, possibly an apothecary, and Marjorie Stewart, supposedly the love child of a local landowner. Later on, Caroline invoked the Stewart family as belonging to leading society in the province, but this has been as hard to verify as her other claims to gentility. (She even invented a genealogy which linked her to Scottish nobility and perhaps royalty). At sixteen she met a young English lieutenant named Valentine Rudd who was drumming up troops in the manner of the hero of George Farquhar's play The Recruiting Officer, and she allegedly married him within ten days. The couple went to England, where Rudd's father had been a grocer in St. Albans prior to his death around 1760, and quickly ran through his legacy once they moved to London. They lived beyond their means in the vicinity of fashionable Cavendish Square. Their union did not last long, though perhaps longer than Caroline made out. Her story of events was that Valentine had been both brutal and insane, and she left him in 1769, the year before she took up with Daniel Perreau. She had been forced to go into hiding under the name of a friend Mrs. Gore, who was the real courtesan, and she took the blame for the latter's misadventures. The alternative version supplied by her detractors was that she had run away with another soldier, and contracted further debts with her paramour before he decamped to France. Her husband was left to pick up the pieces, selling what remained of his patrimony, and publicly repudiating any debts incurred by his estranged wife.
It is impossible to know exactly where the truth lies, but two things are certain. First, the couple were never reconciled, though they were not divorced, and Caroline tried to airbrush Valentine out of the various autobiographic accounts she concocted. Second, she spent most of the rest of her life in the capital, even after the great scandal broke over her head, and managed to pass almost unobserved for more than two decades. Drawn like a moth by the aphrodisiac of fame, James Boswell visited her first in 1776 at her lodgings in Queen Street, Westminster. When he asked her about Valentine, she said that "his long neglect of her set her free from him" (Ominous Years, 357). Astonishingly, he developed a "tendresse" nine years later for the forty-year old Caroline, now ensconced in Devonshire Street, Bloomsbury, as "Mrs. Stewart," and embarked on an affair with her, despite a warning about Caroline from Reynolds that "if a man were known to have a connexion with her, it would sink him" (Applause of Jury, 339). It was very much in character that Boswell could see that to go on with the relationship might mean his ruination, but still could not immediately break his ties with this alluring woman who had emerged from nowhere to displace the grandees of society from public attention.
After a sustained liaison with a wealthy merchant, Caroline had taken up with Daniel Perreau, the more rackety of the twins. He was a speculator in the stock market who had already gone through bankruptcy, but who managed to use his skills as a confidence man to get the support of well-connected members of society in his bid to become an MP and even a baronet. The pair lived as husband and wife for several years, producing three children, although their shared taste for the high life left them with high outgoings—according to Caroline, it was she who always had to bail out her profligate partner. Then they had the social effrontery to move to Harley Street, still in its initial phase as it edged northwards in the opulent Portland estate. However, the crisis that would propel them into fame derived not from Daniel's behaviour, but paradoxically from those of his brother Robert, the respected pharmacist—a profession in which some members were now earning enough to ride in their own coaches and buy country seats. Robert lived in Golden Square, slightly past the peak of its popularity with the aristocracy, but still a good address for a medical man looking for wealthy patients. His mistake came when he tried to negotiate a forged bill in order to obtain a loan from a banker at Charing Cross.
In an increasingly commercial world, forgery was held to be "a crime of the deepest dye, as well as prejudicial to society in general" (quoted by Andrew and McGowen, 23). Panic had spread in the financial world as a result of frauds perpetrated by Alexander Fordyce, known as "the Macaroni Gambler," which not only brought down his own bank in 1772, but also set off a domino effect of simultaneous failures within the system. Behind the current dramas lay a smorgasbord of reactive legislation. By 1830 the number of laws concerning forgery would grow to about 120, out of which half defined the offence as capital. Just to specify them all took up thirty-eight folio pages when listed in statutes of the realm. No one convicted of the felony could expect much mercy. Within two years, an almost equally sensational case saw the fashionable clergyman William Dodd (who enjoyed a similar nickname as "the Macaroni Parson") went to his execution in broadly similar circumstances, despite appeals on his behalf written to Lord Chief Justice Mansfield and others by Samuel Johnson.
The details that emerged at Robert's trial were complicated, but ultimately there could be little doubt either that he had committed the offence or that it was with the connivance of his twin. No surprise that in June 1775 both brothers were convicted after trials that dragged into the light many unsavoury details about their life, including evidence from Daniel's footman (servants often provide the most decisive testimony in eighteenth-century court cases). It took the jury nearly half an hour to find Robert guilty, and only ten minutes to reach a similar verdict concerning a different forged bond uttered by Daniel. Sentence was postponed, partly because a support group mustered by the Perreaus petitioned the court to revisit the part played by Caroline Rudd.
This was the big question that remained open after the brothers had been tried. Rudd had originally been arrested together with the brothers, but she was then bailed by the Bow Street magistrate, Sir John Fielding (half-brother of the novelist), and granted immunity in return for agreeing to give evidence against the pair. There was a longstanding practice of using subordinate collaborators in a crime as witnesses as part of a crown prosecution, but this had become controversial within the legal community and the public at large. It was only in the 1730s that defendants could avail themselves of counsel to probe the evidence against them. As it turned out, in the case of the Perreaus the prosecution team elected not to call Caroline to the stand. They probably thought that she might betray the depth of her own involvement in a way that would appear to lessen the guilt of the accused. Perhaps they made the common mistake of regarding her as a vulnerable woman who would be unable to stand up for herself. Something that hardly anybody realised at this stage was that Caroline was strong, cunning, resourceful, and determined. She was not merely a shameless liar, but an ingenious manipulator of the truth. All this would come out in the following months. Meanwhile an unprecedented volume of ink was spilt on the affair in the press, with partisans on either side debating the moral and legal issues thrown up. Each party lambasted its opponent, with the pro-Perreau adherents castigating Rudd as the true instigator of the fraud, while Caroline's devotes portrayed her as an innocent woman who had herself been cheated and abused by the powerful men who ruled her life. As one contributor to the Morning Chronicle put it at the height of the furore, the rights and wrongs of the key players had become "the topic of general conversation, from the high department of state down to the microscopic atmospheres of every petty coffee and porter-house politician." Seldom had the mind of all literate residents of London fixed so much concentration on a single episode in private life.
In July, against all precedent, Caroline's indemnity was revoked notwithstanding the clear promise she had received, and she was taken to Newgate gaol to await trial. Her appeal against this ruling was heard by none other than Lord Mansfield. He produced a slashing judgment, that condemned the magistrates for exceeding their authority in promising a free pass to Caroline, and went on to expose some of her duplicity. A full body of judges met later in the year, and agreed that she should stand trial. The long-awaited proceedings took place at the Old Bailey over eleven hours on 8 December 1775. Caroline naturally pleaded not guilty, although many in the crowded courtroom must have expected her to lose the case. Some of the evidence offered by the prosecution carried some weight, including that of Robert's wife Henrietta, who had always distrusted her brother-in-law's partner, feelings reciprocated by the other woman. Another witness was the always serviceable option of a servant, this time Caroline's former maid Christian Hart, who gave testimony regarding some earlier efforts by her mistress to entrap men, and portrayed her demeanour while held in prison as confident and active. This impression was strengthened to those observing the trial by the conduct of the accused in court, when she is said to have passed fifty notes to her defence team. When the jury finally returned to announce their verdict, she gave them a bold unflinching gaze. After the words "Not guilty" to all charges were pronounced, there ensued "the loudest and most extravagant plaudits ever heard."
Now Caroline was free to resume her former condition, and she duly made a public appearance, dressed in "satin couleur de rose," with her hair in perfect taste." But it was still not quite the end of the affair. As the date for the execution of the brothers drew near, supporters of the Perreaus launched a last-ditch campaign to save them from the gallows. As their biographers report, "The story dominated the news: people could talk of little else than the fate of the brothers. Should they hang: would they hang? Bets were taken on the likelihood of various results" (Andrew and McGowen. 242). An appeal was made to George III himself, but without result. Even after the hangings were carried out at Tyburn in the presence of an estimated forty thousand people, the curiosity of the populace had not yet been sated. Another large crowd was in attendance when the two coffins were carried by night from Golden Square to be buried in the family vault at St. Martin's in the Fields.
Nor did the fascination with Caroline fade away overnight. It is significant that Boswell told a friend that his "curiosity and love of adventure" led him to the door of the great female adventurer. He had "got acquainted with the celebrated Mrs. Rudd" not long after he arrived in London that spring, and wrote an account of his meeting with her on 22 April 1776. (This was drafted in the form of a letter to his tolerant wife, but wisely perhaps it was never sent.) Boswell's desire to stalk celebrities would not have let him pursue anyone once they had ceased to be the object of general interest. In 1785 he still found Caroline enticing, and when she begged him not to forget her, he described it in his journal as "a romantic scene"—which may mean an occasion worthy of a sentimental novel, or a tender farewell (Applause of Jury, 336). The following year, Boswell remained in thrall to her, admitting "cravings" leading to "gross folly," and congratulating himself on having resisted seeing the "enchantress." But he "could not stay from M.C." for long. He took her to visit the Magdalen Hospital, a home in Southwark for reformed prostitutes (a friend asked him if he was going to leave her there), and she told him she no longer attended St. Martin's in the Fields, with the words, "You know who is buried there"—Boswell glossed this "(Viz. D. Perreau)." This was apparently their last meeting, though in May 1787 he admitted in his journal that he had dreamt of "M.M. [his wife] and M.C. contending for me." He went to her former residence, but she had been taken to the Fleet Prison on account of her debts. Later he wrote an apologetic letter to his wife, claiming that "the creature to whom you allude" had been "totally dismissed" from his thoughts (English Experiment, 44–5, 59, 61, 137, 253).
Eventually, fresh scandals came along that eclipsed the doings of the Macaroni Gambler, the Macaroni Parson, and the Tyburn twins. But at its most intense moment, the Perreau affair had dominated the news in a way that illustrated the power of the press, the hunger for juicy tales of high life, the growth of celebrity culture, the lure of crime, and the fascination with courtroom dramas. "Since the execution of the Perreaus," the Gentleman's Magazine proclaimed, "the people appear to be as much divided in their opinions about the guilt or innocence of Robert Perreau as about the American cause." Only one person could settle the matter once and for all, and the journal did not need to name her. But Caroline Rudd never obliged, though she had produced several pamphlets and letters to the press in her defence, as well as a deposition to the court for her trial. She may have been responsible for an autobiographical romance that appeared in 1789, narrating the troubled history of a much calumniated Mrs. DeCourville. Whether or not she was guilty of all the frauds that clung to her reputation, she was undoubtedly a woman of considerable resourcefulness. Her ability to survive and even prosper in a man's world clearly owed something to a sexual magnetism that was not dependent just on looks (she was short and slim, and not outstandingly beautiful), but it derived too from her intelligence, agreeable manners, and skill in assuming the identity most suitable to her current situation. In an age of adventurers, male and female, hardly any outdid her at making the most of her talents.
---
The story of Caroline's career has been told in gripping detail by Donna T. Andrew and Randall McGowen in a work of considerable historical insight, The Perreaus and Mrs. Rudd: Forgery and Betrayal in Eighteenth-Century London (University of California Press, 2002). Among the contexts explored are public taste for scandal and organs of the press to satisfy this hunger; the manners of high society and the emulative behaviour of an aspiring class; the cult of sensibility and the appearance of the sentimental novel; the legal treatment of forgery; changes in attitudes towards the penal system and courtroom practices; and gendered approaches to crime. All unspecified quotations here are taken from this book. Other references come from three volumes in the Yale edition of the private papers of James Boswell, subtitled The Ominous Years 1774–1776 (1963); The Applause of the Jury 1778–1782 (1981); and The English Experiment 1785–1789 (1986).