William Woodfall

(

1745

–

1803

)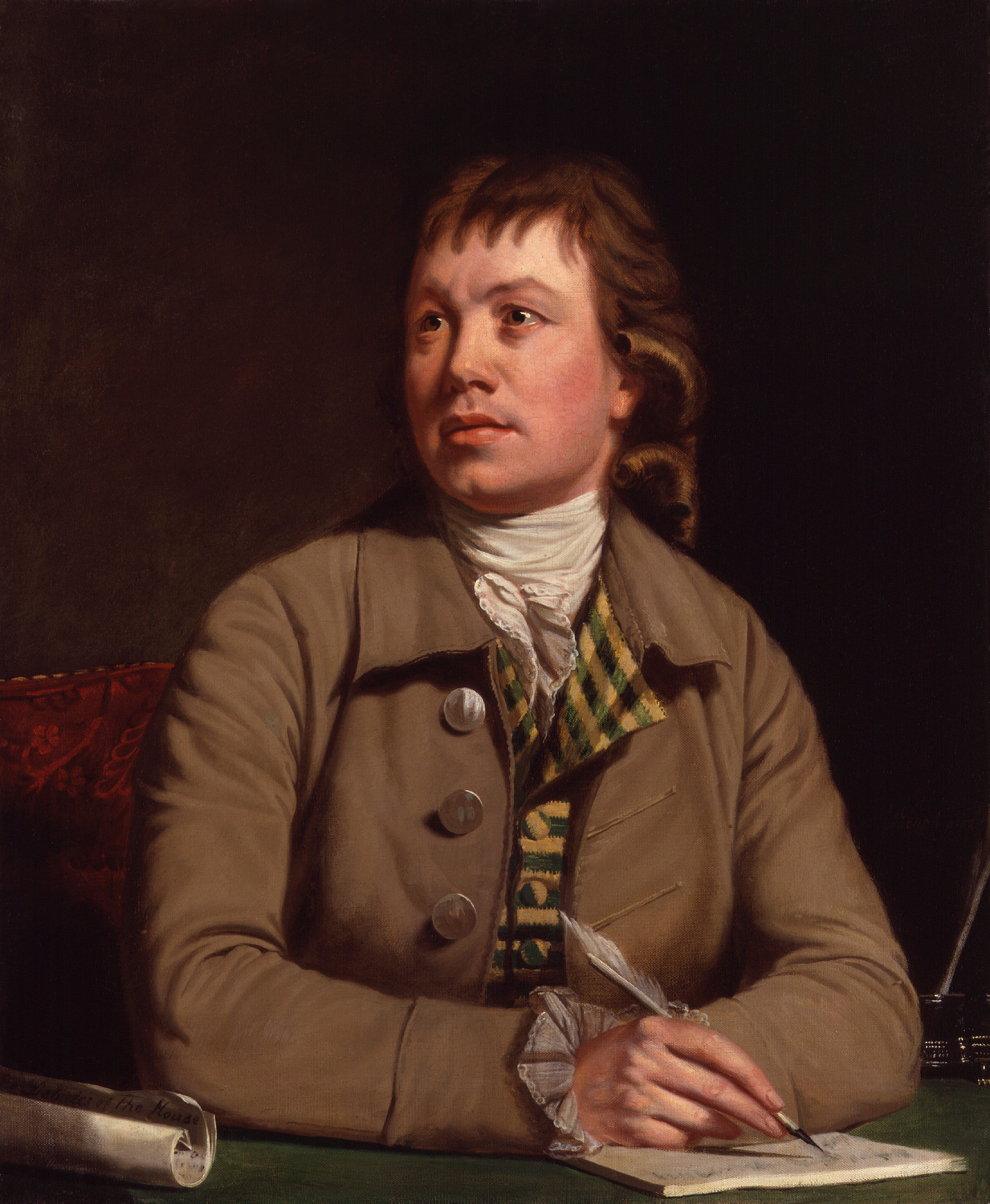 Biographical details
Leslie Ritchie, Queen's University
September 2022
William "Memory" Woodfall (1745–1803) and his elder brother Henry Sampson Woodfall (1739–1805) were both third-generation members of the Stationers' Company and deeply immersed in London's print life. William Woodfall was apprenticed to printer and publisher Richard Baldwin at the sign of the Rose in Paternoster Row in 1761 and made free through patrimony in 1768. Famed for his capacity to remember and report hours of Parliamentary debate with great accuracy, Woodfall was also a dedicated and perceptive theatre critic who, according to his obituary, never missed an opening night in London in forty years. During his life, William Woodfall worked as a printer, publisher, editor, and reporter for four different London newspapers, and he contributed articles to several others.
The first of these newspapers was The Public Advertiser, the daily printed by William's father, Henry Woodfall, from premises located on the corner of Ivy Lane and Paternoster Row. William's brother Henry Sampson Woodfall apprenticed here and (with William's assistance for a short time) he took over the family sheet before their father's death on 4 March 1769. Henry Sampson Woodfall continued to print the Public Advertiser until he sold his interest in it in November 1793. This newspaper was famed as the original publisher of the anonymous series of letters written by one "Junius"—letters protesting government and judicial corruption.
The second newspaper with which William Woodfall was involved was The London Packet, or New Lloyd's Evening Post. Only a few issues of this thrice-weekly evening newspaper survive, so it is not possible to reconstruct a full record of Woodfall's involvement. P.D.G. Thomas calculates that based on the issue number of the earliest surviving copy this newspaper's first issue came out in October 1769. The newspaper's business minutes show that William Woodfall and his brother Henry Sampson Woodfall are part proprietors (shareholders) as of 12 January 1770. Minutes now in the British Library (Add MS 38728, ff.130) show that William began printing this newspaper on Monday 2 February 1773 for "three guineas for the first thousand & so in proportion." William is listed as both printer and publisher of the paper from premises in No. 62 Dorset Street, Salisbury Court, from the 10–12 October 1774 issue until 9–11 July 1777; by October 1777, the paper is printed by T. Brewman.
William Woodfall's longest journalistic stint was with the thrice-weekly Morning Chronicle. A. Andrews calculates the first issue of this newspaper to be that of 28 June 1769. The offices appear to have been at No. 6 Silver Street, White Friars, judging by the 29 December 1770 issue; and at No. 62 Dorset Street on and after 6 December 1773. Woodfall printed the Morning Chronicle for nearly twenty years, and for over eighteen was its editor, thus beginning as its printer around 1770 (the only surviving issue for that year is 29 December 1770, which does name him as printer), and as its editor, around 1771. In March 1771, he is named in the House of Commons as responsible for printing this paper. Thus, for at least six years, Woodfall was heavily involved in producing two of London's major newspapers—a morning and an evening paper—simultaneously. This information offers corrections to Woodfall's current Dictionary of National Biography profile, which shows his involvement with the Packet and Chronicle as sequential rather than simultaneous, and shorter in duration. During this period, Woodfall was frequently jailed and fined on charges of libel, often for having reported Parliamentary debates in defiance of the standing order protecting Parliamentary speech as privileged and protected.
The Diary; or, Woodfall's Register, a newspaper which Woodfall largely wrote and produced himself, drove him into financial difficulty and exhaustion. Woodfall began publishing this paper on 30 March 1789 and articulates his principles and the paper's intended direction in that issue. He bids farewell to the newspaper business in the Diary's final issue of 31 August 1793, where he states that he will continue printing books, and recommends to his advertising friends that they transfer their business to the "Family Paper," the Public Advertiser. The address given for newspaper correspondents remains No. 62 Dorset Street, Salisbury Square.
Woodfall's correspondence shows that in his post-proprietorial years, after an unsuccessful run for the post of City Remembrancer in London, he continued to write freelance theatrical reviews and Parliamentary reports for other newspapers, including the Oracle, with which the Public Advertiser had merged.
During his brief youthful turn as an itinerant actor in a company that toured north into Scotland, William Woodfall married the actress Elenora "Elen" Squire (1743?–1833). Their children included several persons who became important fixtures in London's mediascape in their own right:
Henry Sampson Woodfall (1767–1833, named for his father's brother) was born in Edinburgh, attended Oxford, assisted his father in the newspaper business, wrote and published at least one juvenile dramatic effort as well as writing several prologues and epilogues for Elizabeth Inchbald's plays, but then unfortunately ran mad.
William Woodfall the younger (1771–1806) trained in the law, authored legal books, including a frequently reprinted work on landlord and tenant law, and served as Chief Justice in Nova Scotia.
Thomas Woodfall (1774–1848) became a Stationer; he was apprenticed to his father in 1788 and made free through patrimony in 1795. Thomas married Clementina Hayward Collins, an actress, and their son Charles also became a Stationer, made free in 1825 through patrimony.
Sophia Woodfall (1780-1852) wrote at least two Gothic novels. Sophia (later McGibbon), like her mother, was an actress: a "Miss Woodfall of Derby Theatre" is mentioned in her brother William's obituary, and she also acted in Manchester and Liverpool.
William Woodfall retained a life-long interest in the stage, corresponding with actors and managers including David Garrick and George Colman with the aim of improving theatrical performance, and writing many newspaper columns of "Theatrical Intelligence." Charles Harold Gray's Theatrical Criticism in London to 1795 (NY: Benjamin Blom, 1931; 1964) characterizes Woodfall's writing on drama as somewhat careful and workmanlike but nonetheless important to the growth of the practice of theatrical reviewing (see Gray 223–226 and 265–278). With help and encouragement from Garrick, his co-proprietor in the Public Advertiser and the London Packet, Woodfall edited and revised Richard Savage's play Sir Thomas Overbury for a brief run at Covent Garden in 1777. Perhaps unsurprisingly, Woodfall's paper, the Morning Chronicle, puffed and lauded the piece for its language's "beauty and sublimity," "strength of characters, and simplicity of the fable ... reflecting a scene of domestic woe, in an interesting and elegant manner" (3 February 1777).
Considering his myriad connections to late eighteenth-century London print culture, as a theatre reviewer, Parliamentary reporter, and champion of press freedoms, it is surprising that William "Memory" Woodfall is not better remembered.
Dictionary of National Biography (1885–1900)

WOODFALL, WILLIAM (1746–1803), parliamentary reporter and dramatic critic, born in 1746, was the younger brother of Henry Sampson Woodfall [q. v.] His father first apprenticed him to Richard Baldwin, bookseller in Paternoster Row, and afterwards employed him in printing the 'Public Advertiser.' Being smitten with stage-fever, he went to Scotland as an actor in Fisher's company [see Fisher, David, 1788?–1858], fell in love with a lady, married her, and returned to London about 1772. He recast the manuscript of Richard Savage's 'Sir Thomas Overbury,' a play which failed when performed in 1723 at Drury Lane, with the author in the chief part. The revised version was a success when represented at Covent Garden in 1776, and it was printed the following year (Biographia Dramatica, i. 754).

Woodfall's livelihood, however, was gained by writing in and conducting newspapers. He was editor of the 'London Packet' from 1772 to 1774, when the proprietors of the 'Morning Chronicle' engaged his services, which they retained till 1789. He is said to have visited Dublin by invitation in 1784 to report the debates on the 'commercial propositions' (Nichols, Lit. Anecd. i. 303). His reporting was an effort of memory; he listened to a speech and then committed to paper a remarkably accurate version of it. His fame had preceded him, and crowds followed him in the streets of Dublin because he was supposed to be 'endowed with supernatural powers.' Nichols records that Woodfall's report was printed and prepared for sale as a pamphlet, and that 'not more than three copies were ever called for.'

In 1789 Woodfall established the 'Diary,' and published in it reports of the parliamentary debates on the morning after they had taken place, being the first who did this. He was a dramatic critic as well as a reporter, and in this capacity he sometimes gave offence to managers and actors. In February 1776 Garrick took umbrage at the comments in the 'Morning Chronicle' on the 'Blackamoor,' of which Bate (afterwards Sir Henry Bate Dudley) [q. v.], editor of the 'Morning Post,' was the author. Hearing that Garrick had charged him with rancour, he wrote to him that, 'as the printer of the "Morning Chronicle," I am the servant of the public—their message-carrier—their mouthpiece,' adding that, in the disturbance, he 'narrowly escaped being murdered.' Replying to what Garrick had written in return, he assured him that the piece 'was much hissed throughout the first act. I was myself in the gallery, and as I make it an invariable rule either to applaud or be silent, I listened attentively, and can rely on the evidence of my senses on the occasion' (Garrick Correspondence, ii. 135, 137). When Richard Cumberland's 'Mysterious Husband' was performed for the first time at Covent Garden on 28 Jan. 1783, the critique upon it by Woodfall gave offence to John Henderson (1747–1785) [q. v.], who played a leading part, and who retorted by writing satirical verses which were not published, though circulated in manuscript (Taylor, Records of my Life, i. 379).

Not many years before his death Woodfall was an unsuccessful candidate for the office of city remembrancer. He died in Queen Street on 1 Aug. 1803, and was buried in St. Margaret's churchyard, Westminster. A portrait of him, painted in 1782 by Thomas Beach, is in the National Portrait Gallery, London.

His daughter Sophia wrote two novels before her marriage, 'Frederick Montravers, or the Adopted Son,' which appeared in 1802; and 'Rosa, or the Child of the Abbey,' in 1804. She married Mr. McGibbon. For many years she was the principal actress in tragedy at the theatres royal in Manchester and Liverpool.

Woodfall's son William was a barrister, and his 'Law of Landlord and Tenant,' published in 1802, became a standard work.

[Nichols's Lit. Anecd. i. 303, 304; Gent. Mag. for 1803; Ann. Reg. 1803; and private information from Messrs. Woodfall & Kinder.]

F.R.