Rosemond Mountain

(

1768?

–

1841

)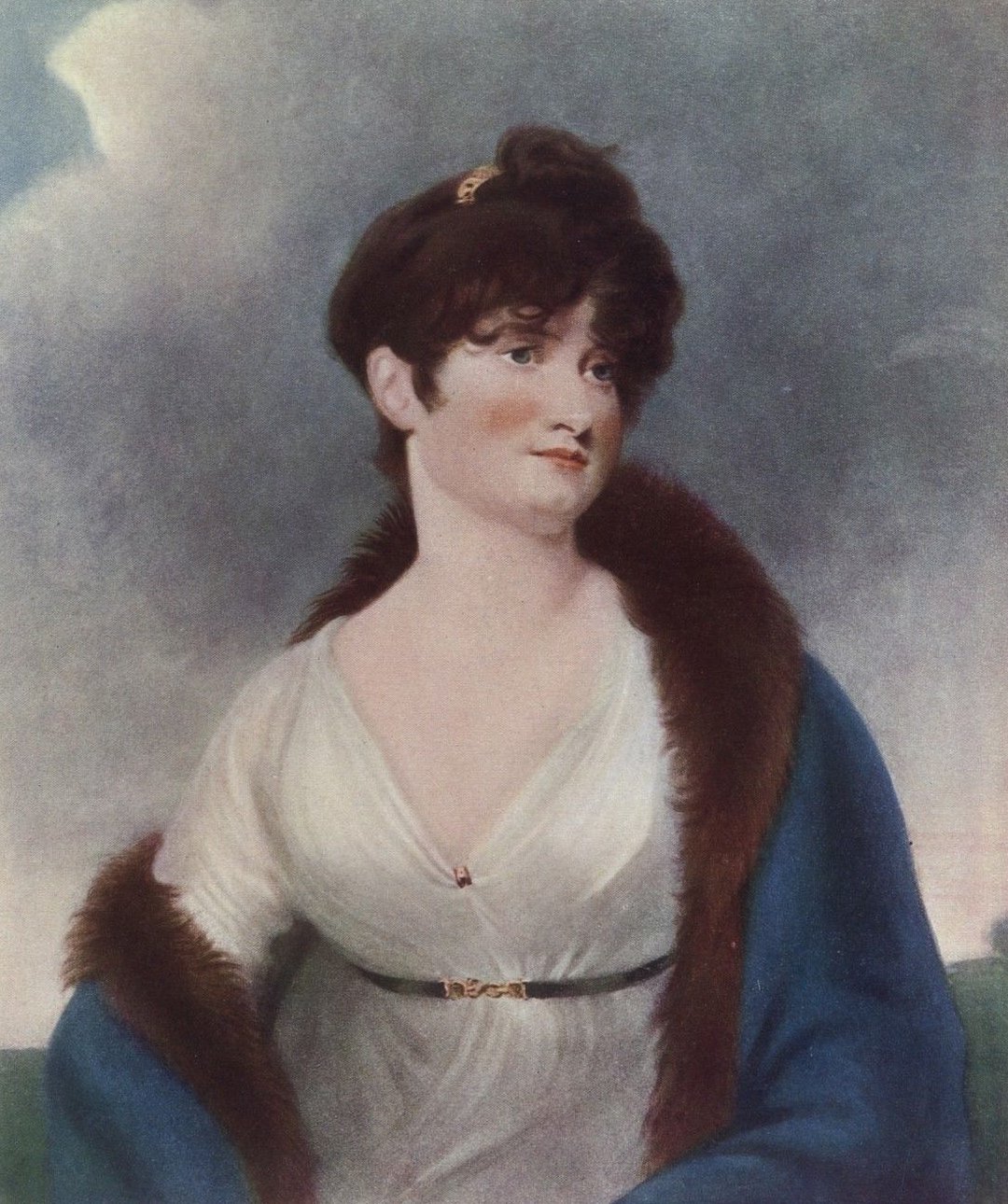 Paul F. Rice, Memorial University of Newfoundland
November 2023
Rosemond Wilkinson (also referred to as Rosemund, Rosomon or Rose in some documents) was born in London to a theatrical family. Her father (fl. 1758?–1784) was a slack wire and tightrope artist, while her mother was a minor actress and dresser; both appeared at the Sadler's Wells Theatre and the Royal Circus, but their first names are not known. Rosemond's siblings—Caroline (fl. 1758–1777), Frederick (fl. 1758–1800) and George Wilkinson (fl. 1758)—were all variety performers who performed in minor theatres. As a child performer, Rosemond was accepted into the training academy that Charles Dibdin (1745–1814) organized at the Royal Circus (later known as the Surrey Theatre). Between 1782–83, Dibdin engaged some sixty children to dance and sing in the Royal Circus entertainments. In addition to designing pantomimes and composing music for these performances, he also taught the children the rudiments of singing. Dibdin writes:
Thus had I formed a seminary to mature actors and actresses for the theatre; ... the theatres are, at this moment, indebted to my exertions, during that short time, for the talents of many of their performers, among whom are the two Siemonets, the two Leanders, Laborie, Mr. Russel, Miss Decamp, Mrs. Mountain, and Mrs. Bland; the three last are deservedly favourites, as singers, merely because I took care they should be taught nothing more than correctness, expression, and an unaffected pronunciation of the words; the infallible and only way to perfect a singer. (The Professional Life of Mr. Dibdin, written by himself, 4 vols. London: 1803, 2:113).
Much of Miss Wilkinson's early career is recorded in William Oxberry's six-volume Dramatic Biography and Histrionic Anecdotes (London: G. Virtue, 1825–7, 3: 271–9). According to Oxberry, Miss Wilkinson remained at the Royal Circus for two years where she became an audience favourite and was awarded two guineas a week for her performances. Her first named character was Madame Hazart in the burletta Mount Parnassus on November 4, 1782. She would have been about fourteen years of age at the time. After her time in the Royal Circus, the Wilkinson family toured the provinces where the father offered performances on the rope and the children gave various musical and dramatic performances. These tours did not prove profitable and Rosemond was eventually taken on by the theatre manager Tate Wilkinson (1791–1799, no relation) who presented her throughout the north. With the passing of time, her acclaim grew and attracted the attention of Thomas Harris (1738–1820) at the Theatre Royal, Covent Garden.
Harris hired Miss Wilkinson for the 1786–87 season. She made her debut on October 4, 1786, performing Fidelia in The Foundling and also Leonora in Dibdin's afterpiece The Padlock. The advertisement in the Times (October 2, 1786) announced her forthcoming debut and described her as coming from the Theatre-Royal in York. Two days later, the same paper gave an assessment of her renown outside of London: "Of Miss Wilkinson, the Bath critics write in praise—in manner and cast of character, her abilities approach nearly to the fascinating of amiable appearance of Mrs. Kemble ... but with these qualities she has the advantage of most pleasing voice." On October 5, 1786, the Times reported on her debut that "in the entertainment, as there is more of character in her part, Miss Wilkinson displayed more excellence. Her Leonora was simple, natural, and affecting, and she sang the airs with an uncommon degree of excellence. They were wood-notes wild, but they were warbled in such a manner, that we fear, whatever art may add to their precision, it will take away from their effect." The author quotes from Milton's L'Allegro, and the pastoral allusions were likely meant to indicate that her singing was sweet and natural, but lacked the technical brilliance of more highly trained singers.
Beginning with the 1787 theatrical season, Miss Wilkinson sang under her married name of Mrs. Mountain. She had met the Irish violinist John Mountain (1766–after 1841) when they were both performing in Liverpool, and he followed the young soprano to London where they were married on June 5, 1787, against her family's wishes. Mr. Mountain achieved a good reputation as an orchestral leader at the Vauxhall Gardens (1791–99) and the Theatre Royal, Covent Garden (after 1794). Their careers were often intertwined. She was a popular soloist at the Vauxhall Gardens in the period of 1793–98 and the Covent Garden theatre was her artistic home for many years. The couple had one child, a son born in 1791. Mrs. Mountain's attributes—an attractive person and a pleasant voice—were useful for the theatre, but she was not considered to be in the same vocal league as her colleague Elizabeth Billington (1765–1818), who had been hired the same year by Harris. The two were often paired in the same operas. In Arne's Love in a Village (1762), Mrs, Billington sang the lead soprano role of Rosetta, while Mrs. Mountain sang the secondary role of Lucinda.
The Covent Garden theatre remained Mrs. Mountain's artistic home for the decade of the 1780s, but disputes with Harris over salary arose several times. The Diary or Woodfall's Register (September 6, 1792) reported that "Mrs. Mountain is engaged at Bath; her quitting Covent Garden Theatre was an act of her own. Her Salary was six pounds per week, and she wanted seven." After performances in Bath, she travelled to the Crow Street theatre in Dublin where the Evening Mail (October 31–November 2, 1792) reports she was joined by Mrs. Billington and other luminaries from the London stage. Another dispute over salary following in 1798 at which time Mrs. Mountain left London to perform in Bath and Bristol.
The choice of Bath and Bristol could hardly have been coincidental for she had decided to undergo a process of vocal retraining with Venanzio Rauzzini (1746–1810), a famous voice teacher in Bath. He had previously trained the likes of Nancy Storace and John Braham, and the list of his pupils was long and illustrious. Rauzzini quickly found the untapped potential of her voice and the change in her singing surprised those who knew her only as a useful singing actress. The Oracle and Daily Advertiser (June 12, 1799) commented that "Mrs. Mountain, without going into Italy, has acquired all the Italian graces in singing, under the tuition of Rauzzini, the long-established favourite of Bath." While this may have been meant as a subtle rebuke for abandoning her earlier, more "British" style of singing, the same paper (September 26, 1799) was laudatory in its review of her performances at the Winchester Festival: "Handel's Music, from the celebrity of the late Festival at Winchester, has gained a very considerable acquisition in Mrs. Mountain.—The natural sweetness and power of her voice, aided by the brilliant and extensive Science of Rauzzzini to whose instruction she has ardently devoted herself for some time past, now render her no less an object of applause than attention in the Oratorio Department."
Mrs. Mountain returned to London during the summer of 1800, not to the Covent Garden theatre, but to the smaller venue in the Haymarket. Her debut on that stage was in the role of Yarico in Samuel Arnold's comic opera Inkle and Yarico (1787). Given the reports circulating from the major festivals held outside of London where Mrs. Mountain had made a significant showing, there were those who regretted that a more appropriate vehicle could not have been found for her. The Times (June 17, 1800) recorded that "we regret that she was brought forward in a line that was not in every respect calculated to display her vocal powers, and the improvement which she has evidently made in science and taste, since her secession from the Covent-Garden boards." In an attempt to display her new-found powers of execution, she introduced a bravura aria into the opera, according to the Whitehall Evening Post (June 14–17, 1800). The Sun (June 23, 1800) reported that "this Actress is so much improved, that we hope to see her obtain a permanent footing on the London boards." Londoners did not have long to wait.
Thomas Harris made overtures to have her return to Covent Garden, but these were resisted by Mrs. Mountain in favour of the Theatre Royal, Drury Lane, then under the management of John Philip Kemble (1757–1823). She made a debut in that theatre on October 6, 1800, as Polly in the Beggar's Opera. The following day, the Times recorded that she had "displayed an improvement in powers and taste that must render her a most valuable acquisition to the musical department. Since her secession from the Covent Garden boards, she has acquired a strength of voice and a melody of tone which evidently place her in the first line of operatic talent. Her shake is free from affectation, and the lower tones of her voice are more powerful than we could have expected." When Nancy Storace retired from that stage in 1808, Mrs. Mountain took over many of her roles, thus becoming the theatre's principal soprano. Between 1809–11 she performed at the Lyceum Theatre after the Drury Lane theatre burned on February 24, 1809. The new Drury Lane opened in 1812, and Mrs. Mountain remained there until her retirement in 1815. Oxberry records that her farewell (given at the King's Theatre) was a glittering occasion:
On the 4th May, [1815], Mrs. Mountain took a farewell benefit at the King's Theatre, in the Haymarket, to a splendid house; on which occasion, an honour was conferred on her by her visitors, which, we believe, is unparalleled in the annals of the drama, i.e. the ladies being attired in court dresses. (Oxberry, Dramatic Biography and Histrionic Anecdotes, 3: 276).[1]
Although frequently troubled by professional differences, Mr. and Mrs. Mountain lived comfortably in a house on Russell Street in Bloomsbury. A measure of their increased social prominence is revealed in the concert series held in their home during Lent. Oxberry records that, by 1807, these concerts were considered to be a highlight of the London season. At a subscription of two guineas per week for two concerts, the audience was treated to performances by some of the most famous performers then in London. Rosemond Mountain died at her home on July 3, 1841, and was survived by her husband.
---
[1] Oxberry incorrectly gives the year as 1814. Unfortunately, she was enticed to return to the stage in provincial centres in her later years, but to little advantage.