Edward Ward

(

1667

–

1731

)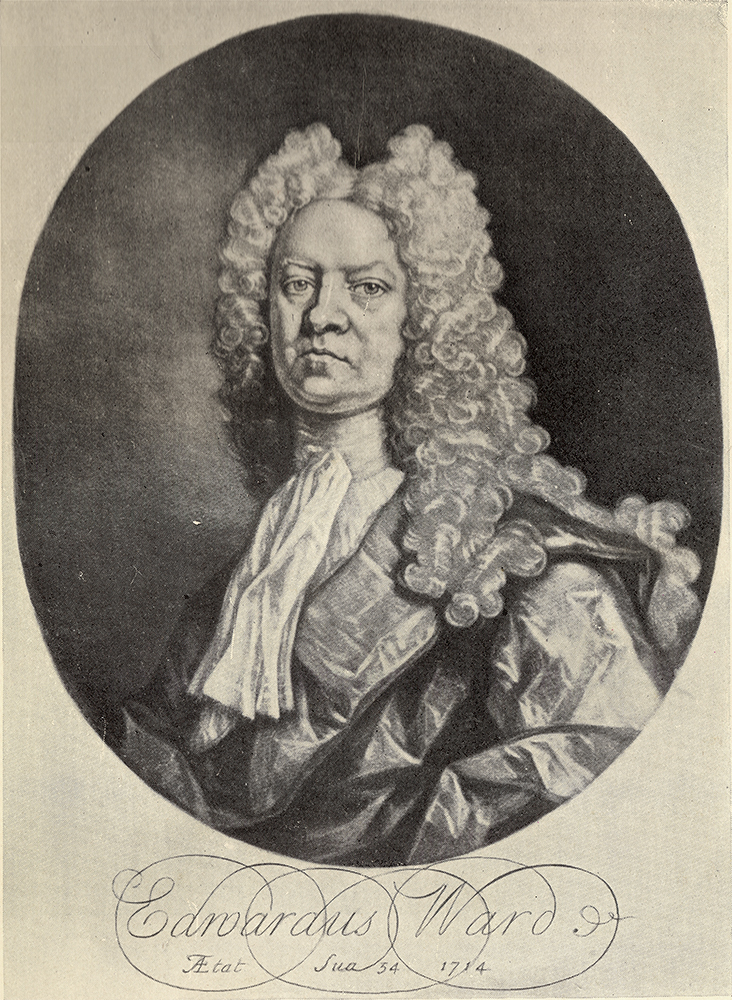 David McNeil, Dalhousie University
February 2023
Edward (Ned) Ward: (1667–1731) was a popular Tory satirist during the 1690s and the first two decades of the eighteenth century.1 He is especially known for his mock journalism, e.g. The London Spy (1698–1700), and hudibrastic verse. The former influenced Addison and Steele's The Tatler and The Spectator. While it is believed that Ward had a smattering of Greek and Latin, his work is characterized by extended and outlandish (sometimes xenophobic) metaphors (Briggs calls them "earthy"2), rather than classical allusion. This popular style, which might be linked to Lakoff and Johnson's conceptual metaphor theory (CMT), distinguishes his work from canonical Tory satirists such as Jonathan Swift and Alexander Pope, the latter with whom Ward exchanged attacks in print.
The London Spy appeared in monthly installments and features descriptions of the city's fairs, political events, and institutions as seen by a newcomer and his companion. Like the narrator of the London Spy, Ward is thought to have come from the midlands. His two travel works, A Trip to Jamacia (1694) and A Trip to New-England employ the same style and probably led to his popularity in America. His collected works were published twice during his life. Among his targets was the new financial world of joint-stock speculation, whose dramatic characters anticipate those of William Chetwood and Susanna Centlivre. Ward ceased writing as his public-house business demanded more of this time. It can be said that, in both endeavors, he understood the popular palate and served up works that appealed to general audiences.
---
1 See Howard William Troyer, Ned Ward of Grubstreet: A Sub-Literary London in the Eighteenth-Century (Cambridge, Mass.: Harvard UP, 1946).
2 Peter Briggs, "Satiric Strategy in Ned Ward's London Writings," Eighteenth-Century Life 35, No. 2 (2011), 76.
Dictionary of National Biography (1885–1900)

WARD, EDWARD (1667–1731), humourist, of 'low extraction' and with little education, was born in Oxfordshire in 1667 (Ward, Miscellanies, vol. v. pref.). He tells as that his father and ancestors lived in prosperity in Leicestershire (Nuptial Dialogues, 1710, dedication). In early life he visited the West Indies, and afterwards he began business as a publican in Moorfields. By 1699 he had moved to Fulwood's Rents, where he kept a punch-shop and tavern (probably the King's Head), next door to Gray's Inn, until his death. Giles Jacob (Poetical Register, 1723) says: 'Of late years he has kept a public-house in the city (but in a genteel way), and with his wit, humour, and good liquor, has afforded his guests a pleasurable entertainment; especially the high-church party.' In a book called 'Apollo's Maggot in his Cups,' Ward professed great indignation at this account, and said that his house was not in the city, but in Moorfields. Oldys says that Ward lived for a time in Gray's Inn, then in Clerkenwell and Moorfields successively, and finally in Fulwood's Rents, where he would entertain any company who invited him with stories and adventures of the poets and authors he had known. In consequence of his attacks on the government in his 'Hudibras Redivivus,' 1705, he was indicted; and, on pleading guilty, he was ordered to stand twice in the pillory, at the Royal Exchange and Charing Cross, to pay a fine of forty marks, and to find security for good behaviour (Luttrell, Brief Relation of State Affairs, vi. 36, 57, 107; Gent. Mag. October 1857). When pilloried he received rough usage from the mob; 'as thick as eggs at Ward in pillory,' says Pope (Dunciad, iii. 34). Elsewhere Pope writes that Ward's vile rhymes were exported to the colonies, to be changed for bad tobacco (ib. i. 234). Ward died at Fulwood's Rents on 20 June 1731, and was buried on the 27th in St. Pancras churchyard (Gent. Mag. 1731, p. 266; Lysons, Environs of London, iii. 371). His wife and daughter are mentioned in a poetical will made in 1725, and printed in 'Applebee's Weekly Journal' for 28 Sept. 1731. A man of considerable natural parts and with a gift of humour, 'Ned Ward,' as he is frequently called, imitated Butler's 'Hudibras' both in his style and in his attacks on the whigs and low-church party. Though vulgar and often grossly coarse, his writings throw considerable light on the social life of the time of Queen Anne, and especially on the habits of various classes in London; but much allowance has to be made for exaggeration (Gent. Mag. October 1857, 'London in 1699: Scenes from Ned Ward'). Ward is twice referred to in the 'Art of Sinking in Poetry' (Pope, Works, ed. Elwin and Courthope, x. 362, 390). Noble (Continuation of Granger, ii. 262) mentions four portraits of Ward: (1) engraving by Vandergucht, prefixed to the 'Nuptial Dialogues;' (2) engraving by W. Sherwin, prefixed to 'Hudibras Redivivus,' 1716; (3) engraving by Sympson; (4) mezzotint, dated 1714. Ward's writings are found collected in sets of various dates and varying completeness. His 'Miscellaneous Writings in Verse and Prose' were issued in six volumes, with general title-pages dated from 1717 to 1724. Perhaps the most important of his works is the 'London Spy,' originally published in monthly folio parts, beginning in November 1698, and reprinted, 'compleat, in eighteen parts,' in octavo, in 1703. This book (whose name was no doubt borrowed from the 'Turkish Spy') throws much light on the times, especially on the life of the taverns and coffee-houses. In 1703 appeared also 'The Second Volume of the Writings of the Author of the London Spy,' a collection of twenty ephemeral pieces, often of great coarseness; a 'Third Volume,' with similar contents, was published in 1706; the 'Fourth Volume' (1709) contained the 'London Terræ Filius.' The curious 'Secret History of the Calves-head Club; or the Republican Unmasked,' appeared first in 1703; there was a seventh edition, enlarged, in 1709, and the book was reissued as 'The Whigs Unmasked' in 1713. 'Hudibras Redivivus; or a Burlesque Poem on the Times,' was issued in twelve quarto parts, between August 1705 and June 1707; it is written in imitation of Butler, and is a violent attack on the low-church party, with descriptions of the scenes of profanity or hypocrisy witnessed by the author during his rambles through London. In 1709 Ward issued 'Marriage Dialogues,' which were expanded in 1710 into 'Nuptial Dialogues and Debates;' 'The Diverting Works of Cervantes, with an Introduction;' 'The History of the London Clubs, or the Citizens' Pastime' (reprinted in 1896), and 'The Secret History of Clubs' (a lengthy volume). 'Vulgus Britannicus; or the British Hudibras,' in five parts, 1710, is a satire on the whigs and the mob. 'The Life and Notable Adventures of Don Quixote de la Mancha; merrily translated into Hudibrastic Verse, by Edward Ward,' appeared in two volumes in 1711–12. 'The History of the Grand Rebellion, digested into Verse,' was published in 1713, in three volumes; the portraits were subsequently used for Clarendon's 'History.' The following is a list of Ward's other writings as originally published, so far as they can be traced:

'The Poet's Ramble after Riches,' 1691, 4to (in verse; speaks of his poverty).
'A Dialogue between Claret and Darby Ale: a Poem,' 1692 (November 1691), 4to.
'The Miracles performed by Money: a Poem,' 1692, 4to.
'Female Policy detected; or the Arts of a designing Woman laid open,' 1695, 12mo.
'Sot's Paradise; or the Humours of a Derby Ale-House, with a Satire on the Ale,' 1698, fol.
'Bacchanalia; or a Description of a Drunken Club: a Poem,' 1698, fol.
'Ecclesia et Faction: a Dialogue between the Bow Steeple Dragon and the Exchange Grasshopper,' 1698, fol.
'A Trip to Jamaica,' 1698, fol.
'The World Bewitched: a Dialogue between two Astrologers and the Author,' 1699, 4to.
'A Trip to Ireland,' 1699, fol.
'O Raree-show, O Pretty-show, or the City-feast,' n.d.
'A Walk to Islington,' 1699, fol.
'The Insinuating Bawd, or the Repenting Harlot,' by D. B. 1699, fol.
'Modern Religion and Ancient Loyalty: a Dialogue,' 1699, fol.
'The Cock-Pit Combat; or the Baiting of the Tiger,' 1699, s. sh. fol.
'A Hue and Cry after the Man-midwife, who delivered the Sand-Bank of their Money,' s. sh. fol. (verse).
'A Trip to New England,' 1699, fol.
'A Frolick to Horn Fair,' 1700, fol.
'The Reformer, exposing the Vices of the Age; in several Characters,' 1700, 12mo.
'The Dancing School,' 1700, fol.
'A Step to Stir-Bitch Fair, with Remarks upon the University of Cambridge,' 1700, fol.
'The Rambling Rakes; or London Libertines,' 1700, fol.
'The Metamorphosed Beau,' 1700, fol.
'A Journey to Hell; or a Visit paid to the Devil: a Poem,' three parts, 1700, fol.
'Three Nights' Adventures,' 1701, fol.
'The Revels of the Gods; or a Ramble through the Heavens,' 1701, fol.
'The City Madame and the Country Maid,' 1702, fol.
'The Rise and Fall of Madame Coming-Sir,' 1703, fol.
'Bribery and Simony,' 1703, fol.
'The Libertine's Choice; or the Mistaken Happiness of the Fool in Fashion,' 1704, 4to (verse).
'All Men Mad; or England a Great Bedlam: a Poem,' 1704, 4to.
'Helter-skelter; or the Devil upon two Sticks,' 1704, 8vo.
'The Dissenting Hypocrite; or Occasional Conformist,' 1704, 8vo.
'Honesty in Distress, but relieved by no Party,' 1705, 4to (verse).
'A Legacy for the Ladies, by Thomas Brown … the second part by Mr. Edward Ward,' 1705, 8vo.
'Fair Shell, but a Rotten Kernel; or a Bitter Nut for a Facetious Monkey,' 1705, 4to (verse).
'The Humours of a Coffee-House,' June to August 1707, seven quarto weekly numbers.
'The Wooden World Dissected, in the Character of a Ship of War,' 1707, 12mo.
'The London Terræ Filius; or the Satirical Reformer,' five numbers, 1707–8, 8vo.
'The Forgiving Husband and Adulterous Wife,' 1708, 8vo (verse).
'The Wars of the Elements; or a Description of a Sea-Storm,' 1708, 8vo.
'The Modern World Disrobed,' 1708, 8vo; republished about 1710, as 'Adam and Eve stripped of their Furbelows; or the Fashionable Virtues and Vices of both Sexes exposed to Public View.'
'Mars stript of his Armour; or the Army displayed in all its true Colours,' 1709, 8vo.
'The Rambling Fuddle-caps; or a Tavern-struggle for a Kiss,' 1709, 8vo.
'The Poetical Entertainer,' 1712, 8vo.
'The Field Spy; or the Walking Observator, a Poem,' 1714, 8vo.
'The Republican Procession; or the Tumultuous Cavalcade,' 1714, 8vo.
'The Morning Prophet; or Faction revived by the Death of Queen Anne: a Poem,' 1714, 4to.
'The Lord Whiglove's Elegy,' 1714, 8vo.
'A Vade-Mecum for Malt-Worms; or a Guide to Good Fellows,' 1715, 8vo.
'A Guide for Malt-Worms; the Second part; done by several Hands,' n.d. 8vo.
'St. Paul's Church; or the Protestant Ambulators: a Burlesque Poem,' 1716, 8vo.
'British Wonders,' 1717, 8vo.
'A Seasonable Sketch of an Oxford Reformation, written originally in Latin by John Allibond, D.D.,' 1717, 8vo.
'The Tory Quaker; or Aminadab's New Vision,' 1717, 8vo.
'The Delights of the Bottle; or the Compleat Vintner: a merry Poem,' 1720, 8vo.
'The Northern Cuckold; or the Garden-House Intrigue,' 1721, 8vo.
'The Merry Traveller,' pt. i. 1721, 8vo.
'The Wandering Spy; or the Merry Travellers,' pt. ii. 1722, 8vo.
'The Dancing Devils; or the Roaring Dragon; as it was acted at both Houses,' 1724, 8vo.
'News from Madrid,' 1726, 8vo.
'Durgen; or a Plain Satire upon a Pompous Satirist [Pope],' 1729, 8vo.
'Apollo's Maggot in his Cups; or the Whimsical Creation of a little Satirical Poet,' 1729, 8vo.
'The Basia of Secundus,' translated by Fenton and Ward, 1731, 12mo.
'The Ambitious Father; or the Politician's Advice to his Son: a Poem in five cantos,' 1733.
'A Fiddler's Fling at Roguery,' 1734, 8vo.

The following pieces, printed in the collected works (1703–6), probably first appeared separately, although copies in that form seem now unprocurable:

'Battle without Bloodshed; or Martial Discipline buffooned by the City Train-Bands.'
'The Dutch Guards' Farewell to England.'
'The Charitable Citizen.'
'A Satire against Wine.'
'A Poem in Praise of Small-Beer.'
'A Poem on the Success of the Duke of Marlborough.'
'Fortune's Bounty.'
'A Protestant Scourge for a Popish Jacket.'
'A Musical Entertainment.'
'A Satire against the Corrupt Use of Money.'
'A Dialogue between Britannia and Prudence.' The 'Hudibrastic Brewer; or a Prosperous Union between Malt and Metre,' is a satire upon 'the brewing poet W—d.'

---

[Biogr. Dram.; Cibber's Lives of the Poets, iv. 293; Brit. Mus. Cat.; Lowndes's Bibliographer's Manual; Retrospective Review, iii. 326–328; Notes and Queries, 2nd ser. iv. 341, 509, 4th ser. xi. 143. There is a manuscript copy of 'Honesty in Distress' in a commonplace book in the Brit. Mus. (Addit. MS. 23904, f. 56).]

. A. A.