Samuel Johnson in Bolt Court
Pat Rogers, University of South Florida
August 2023
This short alleyway survives as it runs northwards from the middle portion of Fleet Street, although it is now a cul de sac separated from the main road. Many of the properties there are now occupied by legal offices. The name comes from an old coaching inn, the Bolt and Tun, which stood directly opposite across the street. Bolt Court owes its fame almost entirely to the fact that no. 8 was the home of Samuel Johnson for the last eight years of his life, until his death there in 1784. This house was demolished in the nineteenth century. The only other resident of great note was another pugnacious writer, William Cobbett (1763–1835).
The lexicographer had moved to this location from Johnson's Court, another winding alley situated barely fifty yards to the west. Bolt Court led up to Gough Square, where Johnson lived from 1746 to 1759, and which is the only one of his numerous London homes that survives today as the principal museum, along with the Birthplace at Lichfield, devoted to his life and work.
During the time of Johnson's residence, Bolt Court consisted of substantial dwellings dating from the previous hundred years. The area has been transformed following rebuilding, as well as fire and bomb damage. An old print, probably dating from the nineteenth century, purports to illustrate its former appearance, showing a five bay, three-storey house of brick, with three mansard widows in the attic. Johnson rented the property for £8 a year in March 1776, needing more space to accommodate his diverse group of housemates. There were up to seven people commonly in residence. The blind poet Anna Williams occupied a room on the ground floor, while Johnson himself his study and books on the floor above. There was a small garden at the back.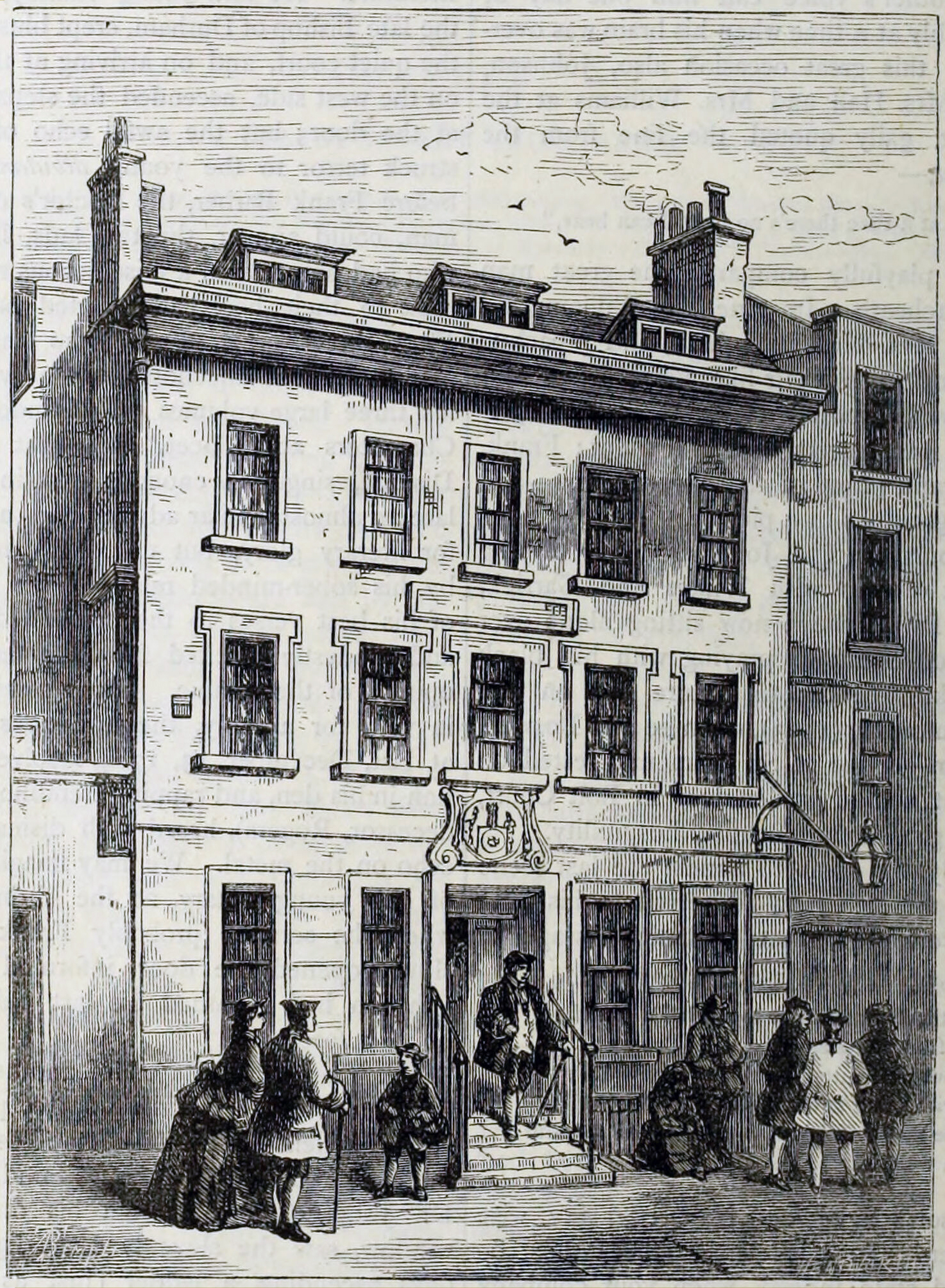 1873–1878
Gradually the household diminished, as the ragged surgeon Robert Levet and Williams both died, the black servant Frank Barber moved out, and the "Thing called Poll" (Hester Thale's description of the mysterious Poll Carmichael) vanished from the scene. This led to the return of Elizabeth Desmoulins, once a friend of Johnson's long dead wife "Tetty": Earlier she had been driven out by a quarrel with Williams, making Bolt Court anything but a peaceful refuge. "If I now go out," he told Thrale in May 1783, "I must go far for company, and at last come back to two sick and discontented women, who can hardly talk, if they had anything to say." Williams died soon afterwards, and Desmoulins took up residence again to run the house with her daughter. Next door lived the printer Edmund Allen (1726–84): the loss of "one of my best and tenderest friends" just five months before his own death darkened Johnson's last days. This property subsequently housed the printing business of Allen's successor Thomas Bensley (1759–1835), but it was destroyed by fire in 1819.
In spite of the distractions afforded by his alterative family, and his own failing health, Johnson managed to achieve a great deal in his sojourn at Bolt Court, most enduringly his Lives of the Poets. Others among his closest associates were no longer alive, including David Garrick, Topham Beauclerk and Henry Thrale: but he had made new friends, notably Frances Burney, and even helped to set up a new society called the Essex Head Club. Considering he was approaching his late sixties when he moved from Johnson's Court, he managed to sustain both courage and dignity as he lived out his last days in the city that had been the scene of his greatest triumphs.